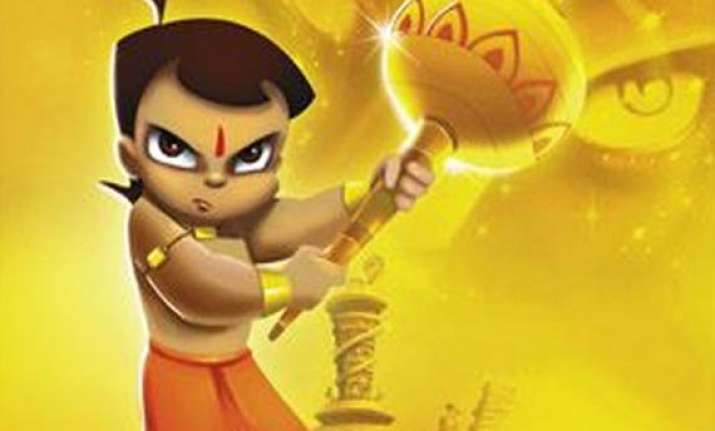 Mumbai, Apr 16 : After the success of its first instalment, the makers of 'Chhota Bheem' are planning to bring a new story about the Indian animated comic hero every summer to entertain children.
The film is all set to stage a comeback on the big screens titled 'Chhota Bheem and the Throne of Bali'.  The movie will be released in 500-600 screens across India and is a sort of sequel to 'Chhota Bheem and the Curse of Damyaan'.
"We are happy with the response the character of 'Chhota Bheem' got both on small and big screen.
Our plan is to come up with a new story every year. Each story of 'Chota Bheem' will have a fresh idea and end it there. In a way its a sequel," Director Rajiv Chilaka, founder and MD of Hyderabad-based Green Gold Animation, told PTI here.  
"It is a sequel. It is not that we would be growing up the character like 'Harry Potter'. The hero will remain same.  We plan to do one film every summer," he said.  The film is about the adventures of a nine-year-old boy named 'Chota Bheem' and his friends living in the fictional city of Dholakpur.
"'Bheem' is derived from mythological character but is completely fictional. His name is Bheem but has nothing to do with 'Mahabharata'. As the name sounds he is strong, he is just a common village boy. The reason why the character is popular is because it connects with the audience," Rajiv said.  
The 100-minute animation film directed by Rajiv Chilaka, founder and MD of Hyderabad-based Green Gold Animation will be released in Hindi, Tamil and Telugu on May 3.
"In Hindi, we plan to release in 400 screens and in Tamil and Telugu we will have 50-60 screens. We are looking at 500-600 screens for the three languages," Rajiv said.  
The makers are looking for a worldwide release this time. They plan to release the film in the US by June-July, in UAE during Ramzan.
"We think kids films have to be planned and marketed differently. It is all about trying things keeping in mind kids and their schedule like their schools, exams," Rajiv said.
For the last four years, Rajiv's company has been producing 'Chhota Bheem' on television, on Pogo channel.  After being the number one television show in its genre, 'Chhota Bheem' graduated to the big screen last year.  The film titled 'Chhota Bheem and the Curse of Damyaan' got good response.
"We had not thought the character of 'Bheem' will be so popular. We gave our best but did not thought how much successful it will be. When the tele-series got good reception we thought of getting into merchandising like T-shirts, CDs, comics etc," Rajiv said.
"When we saw the response of children for the tele-series and the products, we thought of taking it to the next level. We were inspired by kids to take it to big screen.It is due to the visibility of character today that it became easier to do a film," he added.