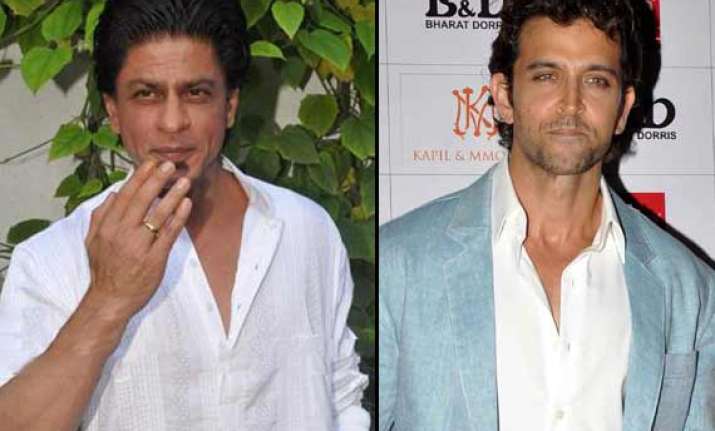 New Delhi: With mouth-watering sawaiyan and other delicious cuisines being served all over the world to mark the festival of Eid, Bollywood stars too took out some time to extend their greetings and wish their fans, Eid Mubarak!
Celebrities namely Shah Rukh Khan, Hrithik Roshan, Priyanka Chopra, Shadid Kapoor, Karan Johar, Madhuri Dixit, Jacqueline Fernandez, Bipasha Basu, Sonakshi Sinha among others, took on the social media to wish their fans and relatives.
Aamir Khan and his son Azad were spotted donning similar coloured kurta pajama for the occasion. Read all their wishes right here.
SHAH RUKH KHAN-
What a beautiful rain kissed day....Eid Mubarak. May Allah grant us all with peace & a modicum of happiness. Bas itna sa khwab hai....
ARJUN RAMPAL-
Getting ready for my delicious Eid feast. Today is big time cheat day. Yum can't wait for lunch. Eid Mubarak again, I love it.

SHAHID KAPOOR-
Eid Mubarak to one and all .

NARGIS-
Eid Mubarak !

ALIA BHATT-
Eid Mubarak !!!!! ;)

HRITHIK ROSHAN-
Eid Mubarak beautiful people. People give love effortlessly on Eid  n also receive without hesitation. Let's learn to make everyday Eid.

JACQUELINE FERNANDEZ-
Eid mubarak!! From the #kickteam love peace and happiness

AJAY DEVGN-
Eid Mubarak everyone


SHRADDHA KAPOOR-
Eid Mubarak to you all, your family, friends and special ones


DIA MIRZA-
May your good deeds earn you peace and happiness. #EidMubarak everyone! #peace #love #blessings

SHREYA GOSHAL-
Eid Mubarak my friends!! Jashn jashn!!

TARAN ADARSH-
Eid Mubarak to all.

FARAH KHAN-
GOD answers all prayers..sometimes He says YES,sometimes He says NO,and sometimes He says...you've got to be kidding!!"EID MUBARAK to u all

SOPHIE CHOUDRY-
Eid Mubarak! Wish u a beautiful, blessed day with ur loved ones! Am gonna enjoy mummy ke haath ki sevvaiyan ❤️
BIPASHA BASU-
Eid Mubarak:)

SONAKSHI SINHA-
Eid mubarak! Dua mein yaad rakhna :)

MADHURI DIXIT-
Eid Mubarak to all! May there be success, happiness, love and peace for everyone!
ARJUN KAPOOR-
Eid Mubarak

ARSHAD WARSI-
Got 2 lunches & 1 dinner to attend. It's an every year ritual ... Have a super happy & blessed day ... EID MUBARAK...

KARAN JOHAR-
Eid Mubarak to all....love...peace and peace of mind....May the season enrich and enlighten you in equal measure.....

JUHI CHAWLA-
May this Eid bring a lot of love happiness peace and prosperity to the home and familly ...!!!  Eid Mubarak once again

ADITI RAO HYDARI-
Chand Mubarak! Eid Mubarak!
PRIYANKA-
Chaand Mubarak... A day of peace and blessings... May God bless the world..

ALI ZAFAR-
Wish all of you all a happy Eid. We r now a family of 5 million or so. Thank you for all the love. Always.

HUMA QURESHI-
Chand Raat Mubarak .. Eid Mubarak aur bdayyy Bhi #TripleTreat :-) loving all the loveee