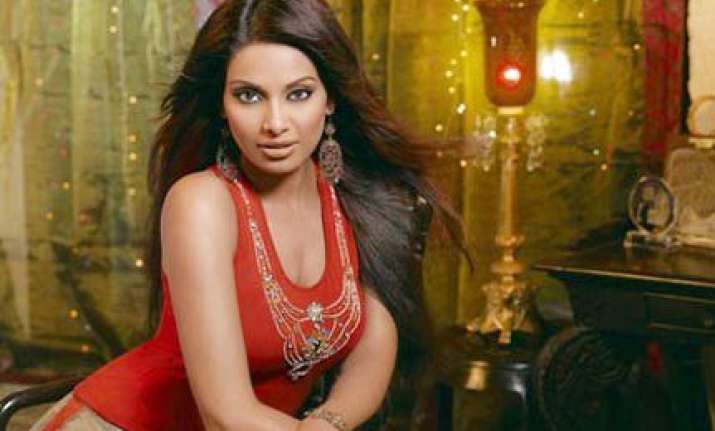 Priyanka Chopra may have sizzled with her dozen roles 'What's Your Raashee?',but  Bipasha Basu will have nine different avatars in her forthcoming film 'Pankh'.
Bipasha has donned a whopping 9 different looks for the film, which is not the quintessential song and dance routine makeover.
If you are wondering as to why the nine looks, then, wonder no further. It's only because every look that has been designed for Bipasha reflects the mood of the male lead played by Maradonna. In the film, she is his imagination... his alter ego.
Talking about her nine different avatars, Bipasha said that whenever Maradonna feels vulnerable, she has been given a soft look and whenever he is agitated or in self doubt, her looks was made to look harsh.
The entire credit of the nine looks goes solely to the ultra creative team of designer Rocky S, director Sudipto Chattopadhyaya and the producer Sanjay Gupta, who were instrumental and involved in designing the right look to match the attitude of the character.
Talking about the film, Sanjay Gupta says, "Pankh is a wild ride through the underbelly of the film industry. Bipasha plays an alter ego, a fantasy & we wanted her to look like the two divas - Sophia Loren & Liza Minelli from 'Cabaret'.
Talking about Bipasha's looks, director Sudipto Chattopadhyaya says, "The difficult part of the entire exercise of creating the nine looks was that we had to create a persona of Bipasha in such a way that she is not a human being but just the figment of the protagonist's imagination."
Sudipto goes on to add, "In the film, whenever the protagonist imagines her (Bips) in a particular state of mind, she appears in accordance to the same. In other words, Bipasha's appearance is equal to the protagonist's emotional avatars. In terms of conceptualization, the simplest look (of the white saree) was the most difficult thing to execute. Ever since Bips came on board, it took us almost four months to finalize all nine looks. The most important thing was that we had to create a blend of super diva of the actress."
Lastly, Sudipto stated, "It wasn't merely about the clothes she wore; it was also about the hairdo and the make up. That's why we didn't hire anyone from the film industry for the same; instead, we hired hi-profile fashion stylists and hair dressers."
With so much going for one film, one better expect nothing less than fireworks from Pankh.