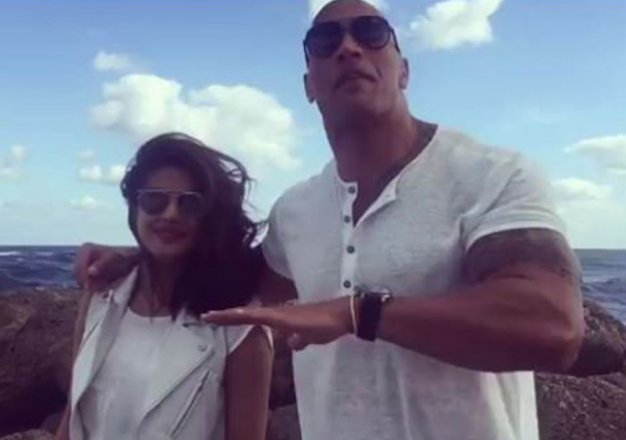 Mumbai: Bollywood celebrities like Sunny Leone, Madhur Bhandarkar and Mika Singh have congratulated Priyanka Chopra over her Hollywood debut film "Baywatch" and say that they "can't wait" to watch the actress in the film.
Priyanka, who will star alongside Hollywood actor Dwayne 'The Rock' Johnson and Zac Efron in "Baywatch", will be seen playing the villain in the movie, which is based on the hugely popular 1990s TV series of the same name.
One of the most watched TV shows globally, "Baywatch" talks about the Los Angeles county lifeguards who patrol the beaches of Los Angeles, California. It starred David Hasselhoff and Pamela Anderson among others.
Priyanka will begin shooting for the film next week.
Since the news of the "Bajirao Mastani" actress being roped in to star in "Baywatch" came out, many celebrities including Harshvardhan Kapoor, Punit Malhotra and Esha Gupta took to Twitter on Wednesday to congratulate Priyanka.
Here is what these celebrities tweeted:
Sunny Leone: Congrats @priyankachopra on 'Baywatch', so amazing! Love love love The Rock! I literally still jump off my couch like he would in 'WWE' big fan!
Mika Singh: This girl is rocking back to back Bollywood to Hollywood. The super talented @priyankachopra. Good luck for #Baywatch
Madhur Bhandarkar: @priyankachopra congratulations. 'Har Taraf Tera Jalwa'
Punit Malhotra: #Baywatch has been trending... thanks to you! Truly moving from strength to strength. Now waiting for the show. @priyankachopra.
Esha Gupta: Wooohoo never thought 'Baywatch' could get any better than it was. @priyankachopra.
Harshvardhan Kapoor: @priyankachopra so it worked out! Can't wait, not because your going to be in swimsuits or anything, for creative reasons
#baywatchmovie.
Tarun Mansukhani: You're the only one who can make a red swimsuit sexier than a gold one! Way to go @priyankachopra!
Sophie Choudry: Woohoo! You killing it on a global scale babe! So incredibly happy for you! And you are making us all so proud.
Karan Tacker: This is a #Baywatch we'll all be looking forward to! Way to go @priyankachopra #inspired".