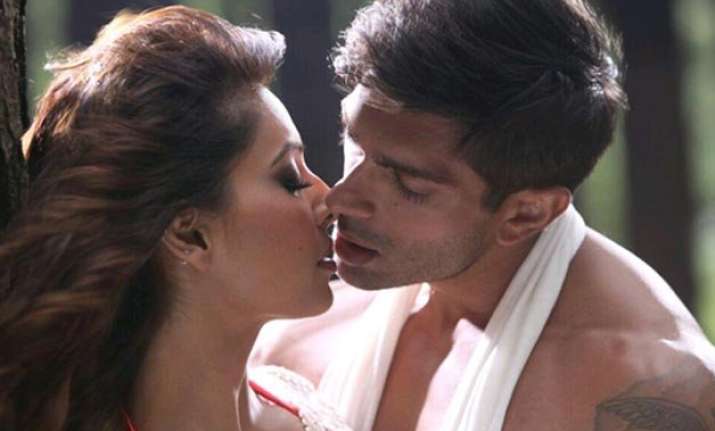 Audience's one of the favourite genres 'horror' is here with Alone, which is set to deliver some thrills and chills. So is it scary enough? Let's find it out.
Bhushan Patel who directed Ragini MMS 2 and 1920: Evil Returns has once again donned director's hat for Alone with the 'horror queen' Bipasha Basu in the lead.
Yes, she is the one who doesn't feel like giving her nod to any other genre, except Humshakals, which turned out to be a disaster.
Nevertheless, Bipasha Basu has excelled in this horror drama once again but is let down by its unintentionally turned humorous horror scenes.
| | |
| --- | --- |
| Ratings | ** |
| Cast | Bipasha Basu, Karan Singh Grover |
| Director | Bhushan Patel |
| Music Director | Ankit Tiwari, Mithoon |
Sanjana (played by Bipasha Basu) is leading a wonderful life with her husband Kabir (Karan Singh Grover) in Mumbai from where they are compelled to come to Sanjana's hometown in Kerala for seeing her hospitalized mother. Sanjana has numerous memories here with her once conjoined twin sister Anjana who died years back in an operation. Soon paranormal activities start taking place in the house and Sanjana doesn't take too much time to realize that its Anjana's ghost who is haunting her.
Is there something, which Sanjana is hiding? Why is it that Anjana's ghost is behind her? Why did Sanjana separated from her conjoined sister? Find it out in Alone, which spooks you with its cheap tactics.
Time and again it's seen that Bollywood is incapable in presenting some genuine horror flicks and Bhushan Patel is one of those directors, who once again proves the same with old tactics.
While Alone possesses a good storyline, which however, is borrowed by a 2007 Thai horror flick with the same name, the movie doesn't send shiver down our spines something, which we expect from such movies. Doors and curtains fluttering, dogs barking, stupid sounds in the background are just what Alone is limited to. Director isn't able to go beyond the tried and tested scary techniques.  
It's just the background score building suspense for a situation, which in spite of frightening makes a mockery of itself. In a night scene (yes, everything takes place during this time strictly with no lights at all) where Bipasha wakes up to the suspicious sounds and discovers no one but Karan. This scene is served with tormenting sound effect, which scares the hell out of you. Such sequences claim nothing but our criticism for fooling us with its cheap methods of eerie.
For over two hours and twenty minutes, this horror-turned-humour drama plays with your psychology and disappoints you in the end. The minor suspense in the climax too isn't able to push the momentum.
The only part that looks genuine is the chemistry between Bipasha and Karan. Lovemaking scenes and sensual songs do occupy an appropriate chunk in the flick and are well picturised. But that would term this movie a sex flick instead a horrex drama.  
While the duo sizzle in these parts, their individual performances too are captivating.
Bipasha Basu as a terrified lady in the beginning while as a ghost herself shines. Already expert in carrying such roles with excellence, Bipasha just takes her act to another level.
Karan Singh Gorver flaunts his acting skills with same exactness that he carries while flaunting his body when required. As a caring husband to Bipasha he plays his part well. But there was a need for him to work hard in emotional scenes.  
Music by Ankit Tiwari and Mithoon is of top notch. Almost all the songs are beautiful and gel well with the story. With beautiful picturisation, the songs get more recall value. Awara and Katra Katra are our pick from the album.
I'll go with two stars for Alone. Had it been more genuine scary moments, the movie would've worked. If still you are craving to watch it, just keep Bipasha and Karan's chemistry in mind.