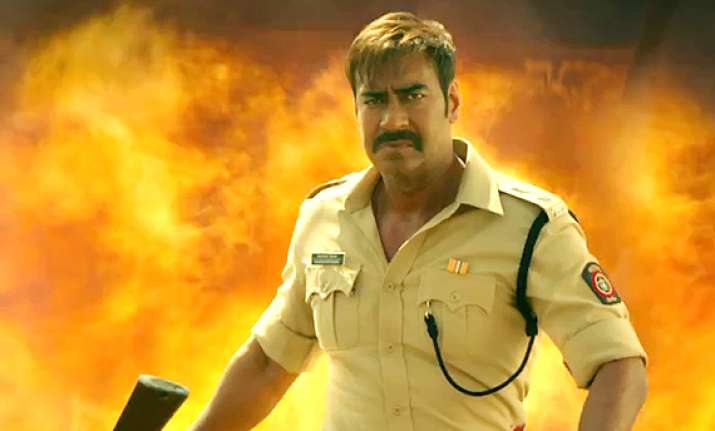 New Delhi: Singham Returns trailer is here and what an impeccable nutcracker it seems. The entertaining duo of Rohit Shetty and Ajay Devgn has come to deliver yet another truly banging offering.
The trailer starts on to justify that the how the edges of corruption and malfunctions have been utilized to set the plot. But, the real magnum begins with the entry of Singham himself. Ajay gives a bursting appearance in the trailer, though his popular scenes from the earlier Singham have been utilized, focusing on how Ajay has successfully retained his rustic image in Singham Returns.
Dividing all the lines of ultra action and anguish is Kareena Kapoor Khan who gives a dazzling instinct. The actress is glamorous and seems to be giving a light sight amid all the fierce combat and conflict.
Amole Gupte, who has so far spilled marvel with his films appears to be doing brilliance in Singham Returns as an antagonist. Needless to mention, Ajay and Amole Gupte are going to intrigue a gripping concoction of grripping acting prowess.
Though the dialogues except 'Jisme hai dum, vo fakhth Bajirao Singham' seem overacted at times, Ajay's majestic persona dominates them. Action fervour in the film seems to be evidently taking a step ahead this time despite bursting cars, blasts, burning bullets and over-the-top rage that define a Rohit Shetty film.
Watch the fully energetic trailer of Rohit Shetty's 'Singham Returns' trailer starriing Ajay Devgn, Kareena Kapoor Khan, Anupam Kher and Amole Gupte here...     
The music has got the similar energy and furious background. The film also appears to be touching the grounds of 'secularism' as Ajay can be seen keeping both 'Hindus' and 'Muslims' at par.
Overall, the trailer gives a complete view of Ajay Devgn carving a Singham Returns with more power and vigor.
Releasing this Independence Day, Singham Returns is a sure shot roar of both Ajay Devgn and Rohit Shetty.