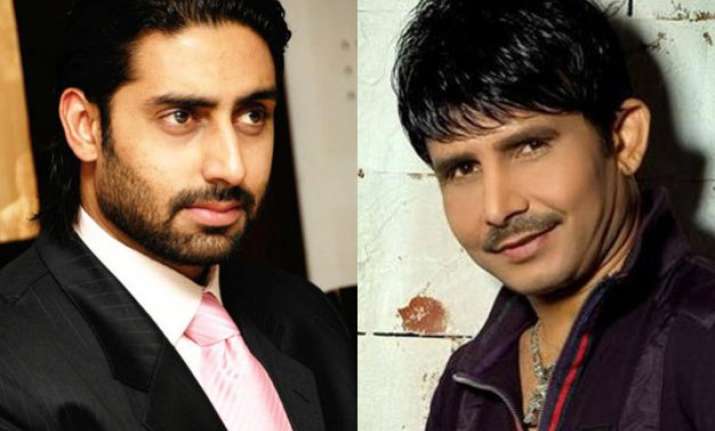 New Delhi: Actor Abhishek Bachchan is not known to be the one to lose his cool easily. But, when he was targeted on Twitter yesterday by an account named Karan Talwar (who runs his Twitter handle in the name of Bollywood G***u), Abhishek had to respond back.
What would have seemed a normal evening turned out bitter for the Dhoom actor. It all started when Karan tweeted,
'Life is not about answers but questions. Where is my career going? Am I making enough money? Why am I still following @juniorbachchan?'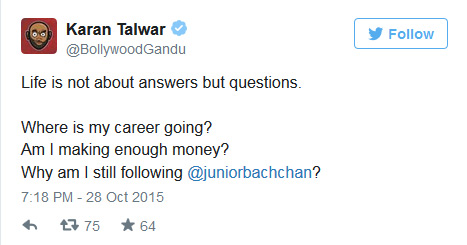 To this Abhishek gave a mouth shutting reply. He tweeted, '@BollywoodGandu here are the answers: 1. Nowhere 2. For your skill set? Hell yeah! 3. I don't know. I unfollowed you years ago.'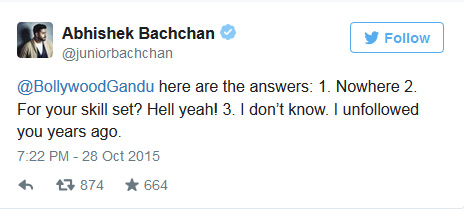 The venomous war of words did not end here. Here is a series of tweets that were exchanged between Abhishek and Karan. Take a look: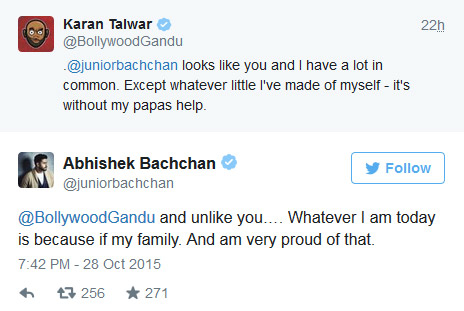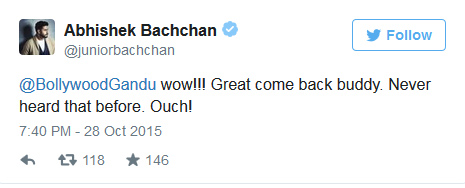 You might agree that Abhishek gave fitting replies to Karan. He was being smart with his replies. Juts then, to everyone's surprise, actor Kamaal Rashid Khan (KRK), jumped into the conversation and praised Abhishek.
This is what KRK tweeted: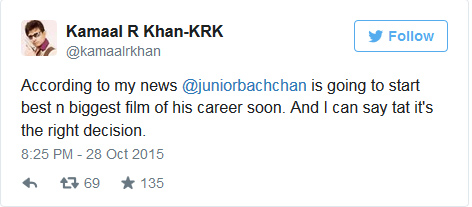 KRK is known to start bitter Twitter wars with Bollywood celebs; the recent one being with veteran actor Rishi Kapoor. After his spat with Rishi, he even blocked all the A-listers of tinsel twon, including Shah Rukh Khan, Salman Khan, Aamir Khan and Akshay Kumar.
So, what made KRK support Abhishek? Is he missing all the action from Bollywood after he blocked all the superstars or he just wants to be involved in any controversies he can?
Abhishek also thanked KRK for his generous compliments.

Well, we wonder how Abhishek must have felt getting help from KRK.