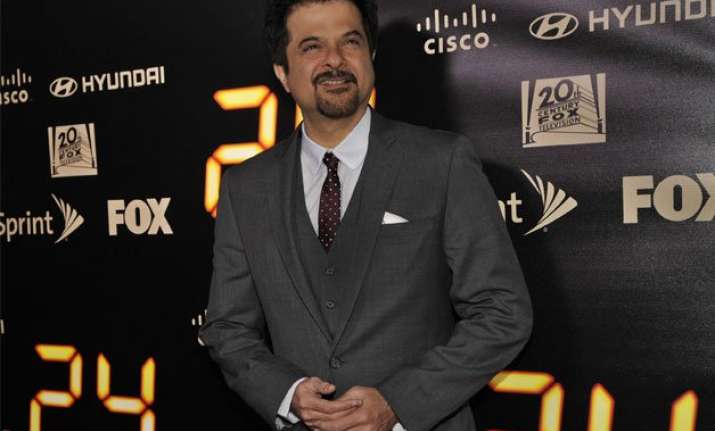 Mumbai: Bollywood actor Anil Kapoor, who launched a Indian version of "24", an espionage television series, says the show has been a life-changing experience for everyone involved.
The "Mr India" actor will reprise his role of ATU chief Jai Singh Rathod in the second season of "24". "It has been a life changing show for everyone, including me. We tried to make the show as real as we could and this season, too, we would try to do the same. We need support for the show as it is something different…out of the box," Anil Kapoor told reporters here at the poster launch of "24".
"Last season, we met Rakesh Maria and he helped us a lot. We have taken help from officials of RAW, CBI, other intelligence agencies for the show. We see grateful that everyone has been helpful," he added. The 58-year-old actor is elated with the response that the first season of "24" had garnered.
"We got lot of love and respect from people for this show. The creators of the show are very happy with the response that we got in India for season one," Anil Kapoor said.
The last season of the show saw Kapoor saving the life of the future Prime Minister and in the second season he has the responsibility to protect the nation.
"You do get inspired by officers, who fight for their own country," the veteran actor said.
Anil Kapoor is seen in a rugged avatar for the second season of "24", as he sports a beard for the show.
Last season saw interesting gamut of actors like Shabana Azmi, Anupam Kher and others. This season too we hear lot of names being speculated like Tabu, Urmila Matondkar, Prabhu Desai and others.
When asked, Kapoor said, "We will retain some characters some will change as the story progresses. We are in talks with several actors but it is difficult to name anyone as nothing is finalised yet. Just wait and watch there will be lot of surprises."
But he did admit that actress Urmila Matondkar will not view part of the second season.
"24" is a real time finite espionage international series, which traces the journey of Anti Terrorist Unit (ATU) Chief Jai Singh Rathod as he battles the odds in the line of duty over the course of 24 hours.
The series is being produced by Anil Kapoor Film Co, and Ramesh Deo Productions. It is directed by Abhinay Deo and Rensil D'Silva. The show is likely to go on air from early next year on Colors Channel.