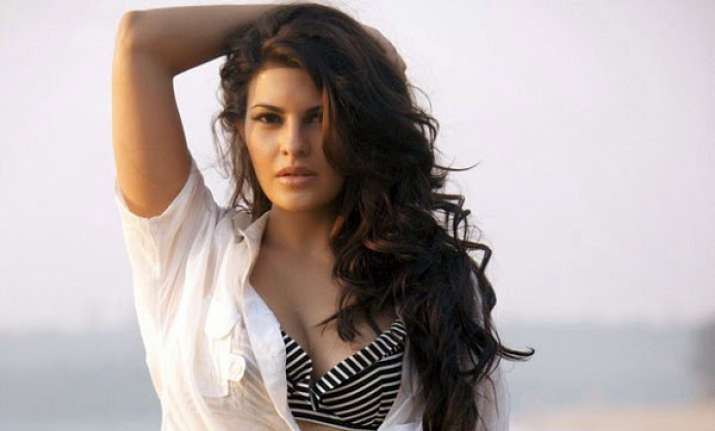 Bollywood diva Jacqueline Fernandez turns 32 today.  The bubbly girl took some time off from the busy promotion schedule of her upcoming flick A Gentleman opposite Sidharth Malhotra to ring in her big day. In order to make the day special for herself, she flew to Tokyo so that she could spend some quality time…. She stunned us with her sultry pole dance moves the other day and left us awe-struck with her fit bod. The 'Kick' actress who draws her fitness inspiration from John Abraham hardly makes any changes in her regimen. According to a media report the goddess of fab body follows health tips by John and is an ardent lover of organic food.
She sweats it out in gym to keep herself in shape. Take a look at her gym selfie, the caption of which reads: "Always fun working out with #geripoo  even though she made me do 500 squats!! #fitnessgurls #sistalove#london" OMG! 500 squats.
Even during shoots, she doesn't forget to do the basic stretch outs. Dressed in bath robe with a cup in hand, this picture of Jacqueline is making our day.
You will be surprised to know that the actress had a week of tough juice cleanse. During seven days she consumed only fruits and vegetable juices. Now, that's rigorous! Yoga is also an inherent part of her fitness secret.
 
 The actress wrote an inspiring post for women who have been body shamed. Here's her message on the World Health Day. "Happy #worldhealthday Health is not about your size or your weight, it's about how strong you feel mentally, it's about how much energy you give your day everyday and it's about how confident you feel with your skill whatever it may be.. don't try to be what the world wants you to be, be you and the world will adjust.. this world health day, take a stand for yourself #healthwarrior thank you @lanaroxy for the class today!!
Now we know how was Jacqueline able to pull off 'Chandralekha' moves with so much ease.