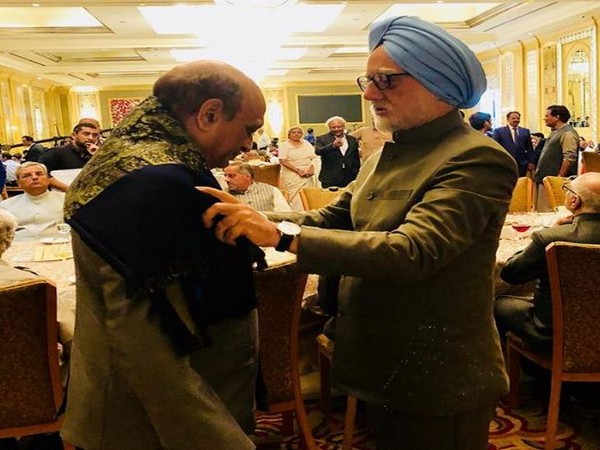 Veteran actor Anupam Kher who will be seen as former Prime Minister Manmohan Singh in his upcoming film The Accidental Prime Minister revealed the first look of Ajit Satbhai as reel life Narasimha Rao. The Accidental Prime Minister: The Making and Unmaking of Manmohan Singh is the book written by former Prime Minister's media advisor Sanjay Baru. The producer of the film Sunil Bohra revealed that they have completed the research on the movie and it is going to be bigger than Richard Attenborough's Gandhi.
Anupam Kher shared the picture on the birth anniversary of Narasimha Rao, who served as the ninth Prime Minister of India from 1991-1996.
Kher took to Instagram to share the photo from the set in which he can be seen presenting a shawl to Satbhai.
He captioned the image as, "Introducing Mr. #AjitSatbhai as the former Prime Minister of India Hon. PV Narasimha Rao ji. It also happens to be his birthday anniversary today.???? #TheAccidentalPrimeMinster @tapmofficial @sunil_s_bohra #VijayGutte."
In recent tweet, the actor said, ""Introducing Arjun Mathur as #ShriRahulGandhi and Aahana Kumra as #MsPriyankaGandhi in our movie 'The Accidental Prime Minister'. @TAPMofficial #OathCeremony #2004 #VijayGutte #SunilBohra."
Based on the 2014 memoir of the same name, written by Dr Singh's media adviser Sanjay Baru, the film revolves around the life of Dr Singh, the economist and politician who served as the Prime Minister of India from 2004 to 2014 under the United Progressive Alliance.
It also features Arjun Mathur and Aahana Kumra as Congress president Rahul Gandhi and his sister Priyanka Gandhi. Suzanne Bernert will portray the role of former Congress president Sonia Gandhi.
Directed by debutant Vijay Gutte and written by Hansal Mehta, the flick is set to hit the cinemas on December 21, 2018.