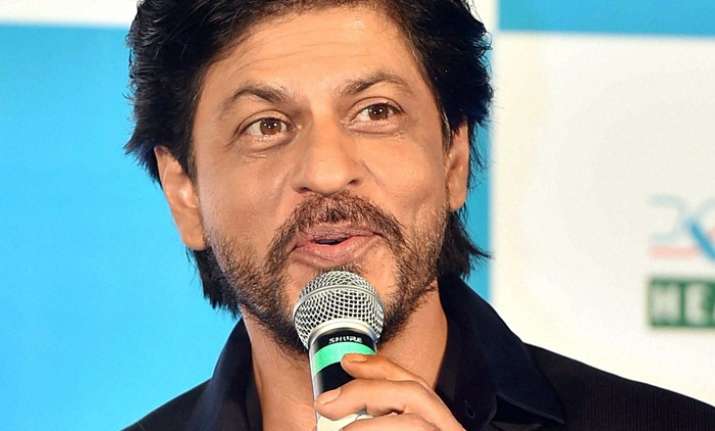 Superstar Shah Rukh Khan, who has ignited controversies in the past with his bold statements recently admitted that he has promised his family that he won't get into trouble again by speaking his mind as the world is different today. He added that people should speak their mind in bathroom.
The actor also revealed that he is planning to quit smoking and drinking for his children.
During a session at an event, Shah Rukh stepped into the shoes of psychiatrist 'Dr Jehangir Khan', his character from recently-released "Dear Zindagi", giving life lessons to moderators Koel Purie Rinchet, Padmaja Joshi and Avantika Singh.
When asked how a person should tell someone to 'shut up', the "Raees" star referred to the infamous brawl involving him at the Wankhede stadium during an IPL match in 2012.
One can ask the other guy to shut up, or to get into a brawl as he did, he said, adding, "Shut up to me is too decent. I should not bring this up. I have promised my family I will not talk like this on stage and get into trouble again!""I think in today's world (one should) be decent, be gracious, bow down a little. I am not giving you freedom to speak your mind, talk your mind, it's a different world today.
Speak your mind in the bathroom," he said jokingly.
The "Fan" star has over the period learnt to deal with rumours that come out in the media.
"The good point about social media is you can put your point across. I do find good-thinking, smart, intelligent people going out there and kind of making a fool of themselves by refuting (rumours). You can't spend your life explaining things and what you feel and what you mean to people," he said.
Shah Rukh was initially supposed to share the stage with megastar Amitabh Bachchan for a session "Unforgettables: The Dream Makers, Lessons from the Spotlight" during day two of the Conclave.
However, as Aishwarya Rai Bachchan's father Krishnaraj Rai passed away earlier today, Bachchan could not attend the session.
(With PTI Inputs)