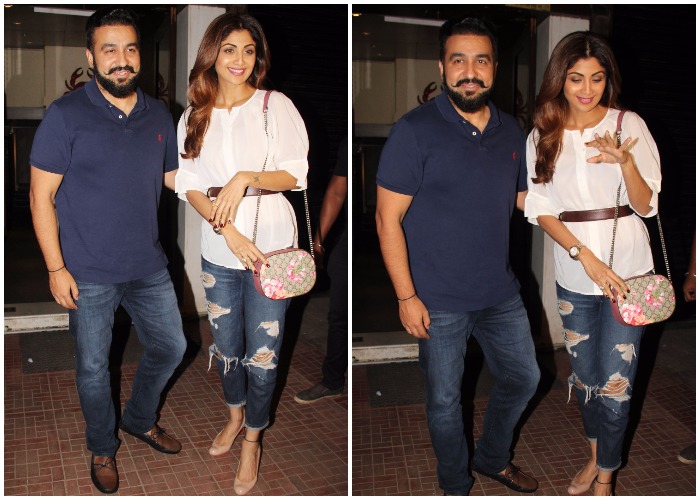 Two photographers were beaten up last night by a hotel bouncer in Bandra. FIR has been lodged at Khar police station under section 324 and 34. Two arrests have been made so far. The brawl took place when Shilpa Shetty and her husband Raj Kundra were coming out of Bastian Hotel. Paparazzi gathered around to take pictures. According to the reports, Shilpa even posed for pictures as she walked out of the restaurant but as soon as they got inside their car, the media personnel were assaulted by restaurant's bouncers. The photographers who were identified as Robin Chawla and Himanshu Shinde received heavy blows from the bounders, which left them bruised and battered.   
The photographers were only doing their duty, but little did they know that they were going to witness a brutal assault in the hands of the bouncers. A source told mid-day, "While the photographers were waiting for Shilpa Shetty to make an exit from the restaurant, the bouncers verbally kept poking them and interfered in their work. They kept pestering them not to stand outside the hotel."
"Everything was fine until the celebrities left the venue. As soon as they made their exit, the security guards attacked Robin and Himanshu. They have brutally attacked them,"  he added.
The source also said, "Bastian security guards have not been very fond of the paparazzis, or the media overall. Whenever media gathered outside their hotel, they always had a verbal fight over not standing in front of the hotel. So, maybe this could be a collective anger thrown on them yesterday."
Before the case was registered, Bastian security guards were taken along with the photographers to check any alcoholic content in their body. A source told mid-day, "Photographer Robin Chawla, who was bleeding profusely, was then, along with Himanshu Shinde taken to the nearest Bhabha Hospital, where they got the bandage done and left for their homes immediately. This case has become very big, as the DCP and everyone have got involved in it."
Bastian Hotel's owner issued a statement which reads, "We're saddened and shocked by the incident that took place outside Bastian last night. We have celebrities and well known guests visiting us frequently, and every experience has so far been smooth. During last night's incident, the people involved were bouncers and security who are hired for Bastian via external vendors - as is the practice, the security services agency assigns their personnel to us and other establishments based on who is available that day. All the Bastian staff, as well as the management, was inside in the restaurant on the second floor at the time of the incident - we were made aware of the same a while after it began. This was a highly unfortunate situation that escalated beyond anything we could have imagined. As soon as the Bastian team found out, we took remedial measures to get things under control. We are changing security agencies today as we do not want to take the risk of this happening again, as well as personally apologising to the media involved. We are also collecting all information so that we are able to offer to take care of any and all medical bills that may have resulted due to this incident."
For more entertainment news and updates, follow our Facebook page