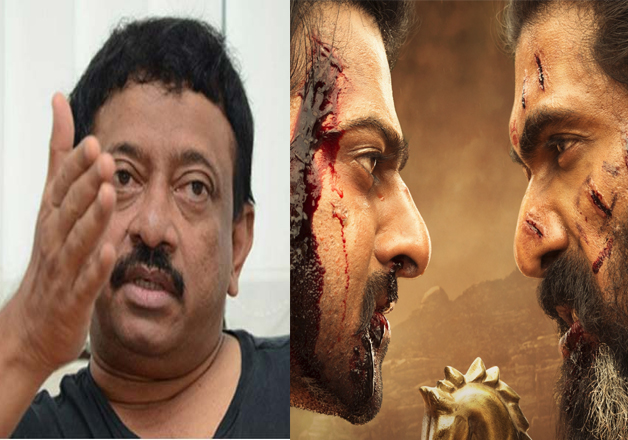 SS Rajamouli's most anticipated Baahubali 2 is all set to hit the screens tomorrow. Not only due to the collaboration of Rajamouli with renowned stars like Prabhas, Rana Daggubati, Tamanna Bhatia makes Baahubali a grand project, but content wise also the film is considered as one of the best film. 
A bit of curiosity can be seen among the Baahubali fans as the unsolved mystery- why did Kattapa killed Baahubali, will also be revealed with the release of Baahubali 2 tomorrow. 
However, when everybody is praising Baahubali for one or the other reason, maverick filmmaker Ram Gopal Varma (RGV) is busy pulling legs of Bollywood filmmakers and directors. 
Through his series of tweets, RGV targeted the whole film fraternity. RGV said when a elephant like film Baahubali comes, other film making dog barks.
Is it not true that I did not hear that fans of all other heroes went deep into underground jealous to see the glory of Prabhas's fans?

— Ram Gopal Varma (@RGVzoomin) April 27, 2017
Targeting the Hindi, Tamil and Telugu filmmakers, RGV said, I just heard that all filmmakers have plugged their ears to escape the thunderous roars of Baahubali 2.
I just heard all film makers in Hindi,Tamil and Telugu have plugged their ears with cotton to escape the thunderous roar of BB2

— Ram Gopal Varma (@RGVzoomin) April 27, 2017
In his other tweet, RGV even said that other Bollywood stars are jealous with the popularity of Baahubali 2 actor Prabhas. 
When a elephant like film comes,other film making dogs bark ..But #Baahubali2 being a Dinosaur ,dogs,tigers nd lions also gone into hiding

— Ram Gopal Varma (@RGVzoomin) April 27, 2017