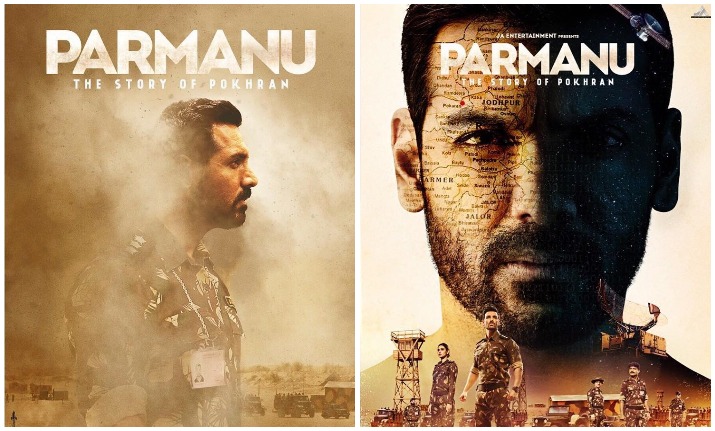 John Abraham's film Parmanu- The Story of Pokhran is all set to hit the theatres this Friday. With Parmanu, the actor-turned-producer will be unravelling the story of nuclear bomb test explosions that Indian Army covertly conducted in Pokhran in 1998. Parmanu was a 10-page idea that was handed over to John Abraham by the director Abhishek Sharma. The actor was impressed by the idea and at the same time, he wondered why it took 20 years for the film industry to come with this idea so essential. However, for the idea to culminate itself into a motion picture, it had to go through some technical jargons like fusion, fission, Hydrogen bomb, kilotons and underground blasts among others.
In a conversation with a leading daily, John Abraham narrated how hard it was for him and his team to convert this thought into a film. He said, "What is important to me is that I pick up a subject that is non-formula. If I were to tell you that the villain in Parmanu is a satellite, you might just get surprised. Now when you think about it, it automatically becomes a tough subject to make. How do you cater to an audience that's used to thali and normal food and then serve them sushi. How do you make sushi tasty so that they enjoy it. That's why Parmanu happened and that's why we developed it in-house."
But before you book your tickets for Parmanu-The Story of Pokhran, you may be naturally interested in knowing what happened in Pokhran in 1998. The film starring John Abraham, Diana Penty and Boman Irani is based on the nuclear bomb test explosions carried out by Indian Army in 1998. Let's take you back to the time when these tests were conducted.
India conducted two nuclear tests from May 11 to May 13 around 20 years ago. When the world came to know about the tests, they were critically received by supernations like US, China and the UK. As per the reports, New Delhi then declared that it was not inclined to use the nuclear weapons in the first place. However, it also stated that they would not refrain from using them if the need arises.
The event was prominent as India never made any noise regarding nuclear weapons until the Pokhran nuclear tests were carried. In 1998, things took a drastic turn. Pokhran II was a series of five nuclear bomb test explosions carried out by Indian army at the Pokhran Test Range. The first was conducted in May 1974. It was called Smiling Buddha.
There were five tests included a fusion bomb, followed by four more trials involving fission bombs. The then-Prime Minister Atal Bihari Vajpayee held a press conference to declare India as a nuclear state, after the tests carried out at Pokhran. He faced a lot of troubles to convince other nations of the necessity of the nuclear tests as many sanctions were filed against India after the tests.
This entire incident bearing India's second nuclear test in Pokhran and its critical reception took a shape of a motion picture Parmanu: The Story of Pokhran. The film produced and starred by John Abraham will be releasing on May 25, 2018.