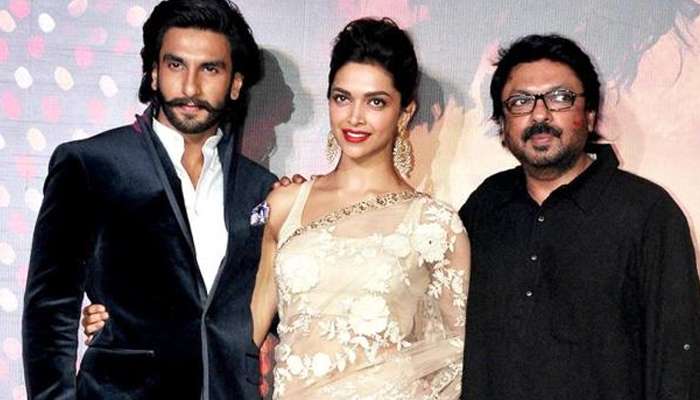 The trio of Ranveer Singh, Deepika Padukone and Sanjay Leela Bhansali are back. After orchestrating two blockbusters, 'Goliyon ki Raas leela: Ram Leela' and 'Bajrao Mastani'; they have come together for 'Padmavati'.
Over the past few weeks, speculations about Ranveer being a part or not a part of the movie had been rife. A-listers like Shah Rukh Khan and Hrithik Roshan were said to be a part of the movie. But, seems SLB was not keen to have anyone other than Ranveer to play the role of antagonist Allauddin Khilji.
Media reports have it that Ranveer has been finally roped in for the movie, after much hue and cry.
What seemed quite an obvious casting coup, turned out to be a complicated one when reports of problems between Ranveer and Sanjay Leela Bhansali surfaced. It was reported that, Ranveer became a little conscious about how much screenplay's share he gets when actor Shahid Kapoor was brought on board. Shahid, insiders suggest, will play the role of Deepika's husband.
On becoming a insecure over his part, Ranveer asked SLB to show him the screenplay which belonged to him, reportedly. This miffed the ace filmmaker. However, it seems Ranveer was quick to let go off his grievances as he was spotted meeting SLB recently. Media reports have it that this meeting was to iron off the differences and Deepika must have played a part in it.
"Both Bhansali and Ranveer knew Padmavati couldn't be made without Ranveer. They held their peace and enjoyed all the speculation about Ranveer's replacement,"
a source was quoted by a leading lady.
Now that the trio is back, it is obvious that expectations would be high from 'Padmavati'. As compared to 'Ram Leela', 'Bajrao Mastani' took opulence and  grandeur a notch higher, and maybe 'Padmavati' could take it higher.
However, for those who are ardent fans of Ranveer and Deepika's chemistry, 'Padmavati' could be a disappointment. In the movie, Ranveer will play Khilji who is on a mission to covet Rajputana princess Deepika. This, obviously means that most of the times they will be on two sides of the war and maybe Deepika will have more romantic scenes with her on screen husband (who as of now is Shahid Kapoor).
Now it would be worth seeing as to if fans welcome 'Padmavati' with open arms in the way they did 'Bajirao Mastani'.