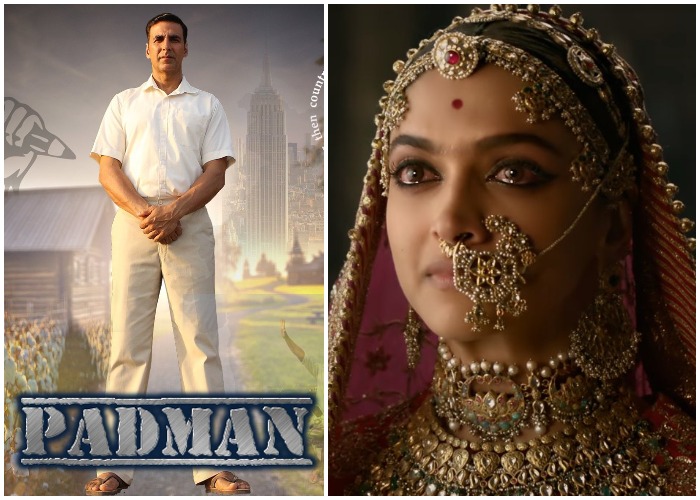 After a long period of struggle, tussles and protests, Sanjay Leela Bhansali's film Padmavat (Formerly known as Padmavati) finally gets a release date. But not everybody in the industry is happy. Actually, the Deepika Padukone-starrer film is clashing with Akshay Kumar's much-anticipated Padman on January 25. While Akshay Kumar's film has locked the date from long time back, Padmavat makers finalised the date after the period-film was deterred by from December 1, 2017 due to incomplete documents.
When Mumbai Mirror spoke to R Balki about the impending clash, he said, "Our film was supposed to release on Republic Day from the outset. It's a free country and if people insist on a particular day, nobody can stop them. However, it is silly to clash in a small industry; there are enough dates for everyone. It's not the wisest thing for films to clash."
When the lead actor of Padman, Akshay Kumar was asked about the same, he was rather chilled about the clash. He said, "It is not about competition, it is a very big day, a big week, so all the films can come, both the films can release on that day. Every film has the right to release whenever they want, and I am happy for them."
Padman's one of the lead actresses Sonam Kapoor spoke about Padman vs Padmavat clash with a leading tabloid. She said, "Is it really coming? It is not announced officially, isn't it? If it is, it is good. There is a need for competition when it comes to films and high time that the film releases. Good cinema is good cinema. I don't believe in competition. Our film is very simple and sweet, and honestly, I am just happy that the film is releasing, more than anything else, and I hope the film does well. I am pretty sure that there is no official statement from the production house of the film (Padmavati) release."
Sanjay Leela Bhansali's Padmavat had been facing a lot of flak from fringe group Rajput Karni Sena, which accused the makers of playing with history and maligning the image of Rajput queen Rani Padmini. After suggested modifications, the film is finally releasing on January 25 with the new title Padmavat.
Picture Credits: Padman and Padmavat Official Twitter Handles