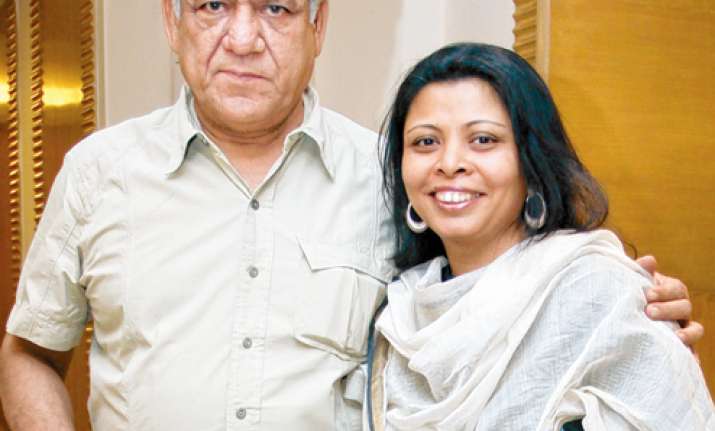 Om Puri ghost video went viral on the internet recently when a Pakistani channel claimed that Om Puri's "ghost" was back to take revenge. Now, wife Nandita Puri has come to the forefront and rubbished all such "stupid" rumours.
Expressing her anger Nandita said that the video was just "disgraceful and scripted".
Spekaing to Hindustan Times, she said, ""The agenda is harassment, that's all! There were people who were after Om's money and not very happy with the kind of adulation he got in the West because they aren't successful. These people [behind this video] have hurt me, my son and the entire nation and film fraternity. They are Namard".
Read Also: Hilarious: Pakistani media claims Om Puri's ghost is seeking revenge, watch video
If you can't face a man at his level, then don't do anything when he is no more in this world. And what is all this bull***t – ghost and all? Who believes in all this? They are the same people, who, at the time of Om's death, did not want me to conduct a post-mortem", blasted an angry Nandita Puri.
Furthermore, she slammed Pakistani anchor Aamir Liaquat and, called him a joker, who has survived a lot of these cheap thrills earlier too.
"According to my sources, he was given this from somebody in India and there are many people involved who have scripted this whole thing, which is disgraceful and in extremely bad taste. The video was shot in a night vision CCTV camera and we have traced down the building. Of course it's not where Om lived. He won't live in a shoddy building, but it's very close to our house," Nandita said.
She went on to say that the motive behind all this drama is to malign Om Puri's image.
Om Puri was a man who took the country to the Oscars and now, stupid people are spreading false news, which is a compete lie, Nandita Puri further added.