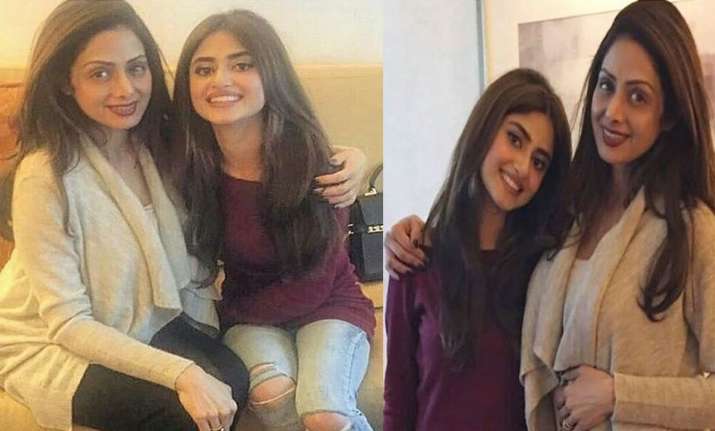 With her charismatic looks and amazing on-screen persona, Sajal Aly has become the talk of the town. The Pakistan actress who played Sridevi's daughter in her Bollywood debut Mom, says she never dreamt of acting in the Hindi film industry. She also spoke about her character Arya and, said that it was challenging for her to portray the role of a rape survivor.
"It was definitely a challenging role... I mean any character you play, you have to really commit to it and kind of naturally become like that, at least that's how I function", Sajal said.
"I think the most challenging part was performing with Sridevi ma'am. Like my very first scene in the movie is me sitting at a dining table across from her and misbehaving with her -- it was terrifying!" Dawn quoted her as saying on Wednesday.
"We had to shoot in Georgia and it was freezing cold... So yeah, that was pretty tough too," Sajal said.
Sajal said: "Bollywood was never my dream, in all honesty. I was happy working here and that was not something I was working towards but this story moved me. 
"I always knew that if I worked in Bollywood, I have certain limitations and boundaries that I would not want to cross and this movie was about a sensitive topic, everything was handled so tastefully."
The actress is all praise for her co-star Sridevi, who plays her mother in the movie. "She's just the sweetest person. Even now, she keeps calling me and reminding me that I'm in her thoughts."
Sajal said she had three film contracts with Boney Kapoor, Sridevi's husband and a producer in Bollywood. 
"But now I don't know what's in the near future. They handed me the complete package on a silver platter: a meaty character, an excellent cast, the best of the best and for that, I'm forever grateful...
"Everyone's sending me messages telling me they're proud of me, it's just the best feeling, knowing everyone appreciates your work, including critics from across the border."
(With IANS Inputs)
For more entertainment stories, click here