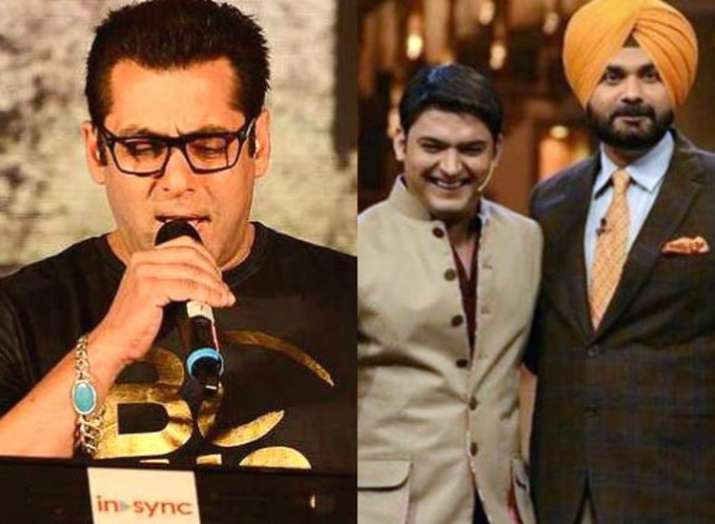 Latest Bollywood News and Updates February 19: Post Pulwama terror attack, the nation is living in anger and sadness for the death of more than 40 CRPF jawans who lost their lives in the attack. Not just the citizens but Bollywood celebrities as well are trying their best to pay their tribute to the martyrs like the team of Total Dhamaal has decided not to release the film in Pakistan. On the other hand, since AICWA has banned Pakistani artists from working in India, Salman Khan has stepped into the shoes of Atif Aslam and will be seen singing the song in his upcoming production Notebook. Also, Kapil Sharma has finally broken silence on Navjot Singh Sidhu's exit from the comedy show and his comments about the attack.
Karan Johar shares heartfelt post for Ranveer Singh, Alia Bhatt after Gully Boy success, calls it MASTERPIECE
Ranveer Singh and Alia Bhatt have managed to impress the audience once again with their stellar performance in the just-released film Gully Boy. In just 3 days, the film has crossed the 50 crore mark and is running towards the 100 crore club in high speed. While fans are not able to remove Apna Time Aayega from continuously running in their minds, critics are equally blown away by the way filmmaker Zoya Akhtar has portrayed her characters Murad and Safeena, played by Ranveer and Alia in the film. Looks like not just fans and critics, but Bollywood celeb are also quite impressed with the film as Karan Johar took to his social media and showered the star cast of Gully Boy with tons of praises. 
Taking to Instagram, Karan Johar poured his heart out about what he felt after watching Gully Boy and been associated with the process of the film. While he called Ranveer Singh an outstanding performer, Alia Bhatt was simply synonymous to 'girl wonder' for him. Sharing the poster of Gully Boy, Karan Johar wrote, "When passion supersedes grass root realities...when dreams make you wake up to bigger dreams....when you wrap rap into a form of solid expression....when you tell a story that has all this and more....that's when you have a film that you can assuredly call a MASTERPIECE of modern times! @zoieakhtar weaves a story of aspirations in the underbelly of Mumbai like a bonafide magician....she slowly reveals every trick in her genius bag and you walk away with a lump in your throat and a swag in your step! #apnatimeaayega becomes your life mantra and all you want to do is dance the dance of great Cinema! I have just witnessed a cult classic that has possibly the best ensemble of actors we have seen this decade... @ranveersingh delivers the loudest quiet performance oscillating between silence and storm and you are left awestruck by his immense versatility and ability to sink his teeth into every single character....he makes you feel every beat of Murad's beats! Outstanding!! What do I say about the girl wonder @aliaabhatt who explodes like a volcano every time she appears on screen! You wait for her and worry about her next move with joy and excitement! ! She is so so so brilliant! I think Safeena deserves a spin off film of her own!"
KJo not only praised the lead duo but was all appreciation for the makers as well as MC Sher in the film as well. He added, "@siddhantchaturvedi makes a smashing debut as MC sher ! He is pitch perfect balancing arrogance and goodness with the ease of a veteran! Every member of the ensemble is terrific! Congratulations to my friends @ritesh_sid and @faroutakhtar for producing this gem of a movie! And finally my dearest Zoya......you are my favourite filmmaker and I feel so proud that I can witness your genius unravel at close quarters!! Well done team #gullyboy the entire technical crew needs a standing ovation!!!! What a film!!!!!"
Salman Khan turns singer again, replaces Pakistani singer Atif Aslam in his upcoming production Notebook
Post the terror attack in the Pulwama district of Kashmir on February 14 where India lost more than 40 CRPF jawans, not just the government, but Bollywood celebrities as well are trying to contribute as much as possible to help their families and to unite the nation in these testing times. On one hand makers of Total Dhamaal have claimed that the film will not release in Pakistan, AICWA has banned Pakistani artists from working in India. Post which, Bollywood superstar Salman Khan has asked his production to replace Pakistani singer Atif Aslam from his next production Notebook.
Going by the reports in Pinkvilla, Salman Khan will himself step into the shoes of Atif Aslam and sing the song for the film. While there's no official announcement on the same, the report also states that the re-recording of the song will take place in the next one or two days. The AICWA letter reads, "All Indian Cine Workers Association strongly condemns the brutal terrorist attack on our soldiers at Pulwama in Jammu and Kashmir. Our heartfelt condolences to the families of the victims. AWCWA stands with the nation in confronting such terror and inhumanity. We're officially announcing a total ban on Pakistani actors and artists working in film industry. Still, if any organization insist on working with Pakistani artists will be banned by AICWA and strong action will be taken against them."
Katrina Kaif wants these THREE things in 2019 and the list includes a Boyfriend
Katrina Kaif is one of the top actresses in Bollywood and as much as fans get excited to see her on the big screen, they are also waiting to know when she is getting married. Recently, when the actress appeared on Famously Filmfare, she addressed the question of marriage and revealed that with everyone in Bollywood getting married these days, she feels left out. Katrina Kaif also opened up about her break up with Ranbir Kapoor changed her perspective towards life and how she managed to become a better person as well as the better actor.
Katrina Kaif was all candid when she appeared for the chat session and when the host asked her about those three things she wants in 2019, Katrina said, "A Filmfare Award, A boyfriend, I don't want to be single now and I want to have my own production company." Considering how stellar she performed in her last film Zero, looks like the first thing on her list will surely happen, however, fans are intrigued about the second thing which is a boyfriend. While on the show, Katrina also revealed that has always been in serious and deep relationships and never really knew how to date casually.
Karan Johar reveals he narrated Takht script to Ranveer Singh first, even before his family
Karan Johar and actor Ranveer Singh's camaraderie often excites the audience. The two are not just always praise for each other but also keep indulging in cute banter every now and then. Soon, Karan Johar will start his dream project Takht and will be seen directing the topmost talents in the industry including Ranveer Singh.  KJo will be returning to his job as a director after a long time and while interacting with the Gully Boy star during a TapeCast, he revealed that Ranveer Singh was the first actor to hear the script of his next film Takht and that he was very nervous and wanted him to say yes.
During the interaction, Karan Johar claimed that he narrated the script to Ranveer Singh even before his family know that it is complete and also before his best friend Kareena Kapoor Khan and daughter Alia Bhatt. Karan said, "When I thought of this film, I thought Ranveer Singh has to be in this film. That was my decision. I remember the narration. There would be a huge part in my heart which would've been crushed if for some reason you would've declined the offer because I had you in mind for Takht always. You were the first person who heard it. Nobody in my family knew this film was ready."
Also read: Karan Johar shares heartfelt post for Ranveer Singh, Alia Bhatt after Gully Boy success, calls it MASTERPIECE
Ranveer added, "I just wanna tell people that Karan called me over and when he started narrating the film himself, suddenly I asked myself who is this person? I don't know this person! His eyes were red, the body was flushed, hands were trembling and there was an aura around him. It was almost like he was tripping." 
Ishaan Khatter will NOT star in Sanjay Leela Bhansali's next film, his spokesperson confirms
Ishaan Khatter has been ruling the headlines these days that after impressing the masses with Dhadak and Beyond the Cloud, the actor is all set to star in a Sanjay Leela Bhansali film. The rumours had it that the filmmaker is impressed with Ishaan's acting skills and has approached him for a part in his next film, however, the later reports suggest the opposite. Ishaan's spokesperson has claimed that the actor will not be seen in any film by Sanjay Leela Bhansali and stated that the rumours are untrue.
The spokesperson claimed, "There is no truth to the rumours. This is to clarify that no such film is being made." The earlier reports stated that the source close to the development said, "Sanjay sir was quite impressed with Ishaan in Dhadak. He has offered the role in his next to the young actor. However, the formalities are yet to be worked out. The film is still in the initial stages and Ishaan is yet to sign on the dotted line."
Kapil Sharma reacts on Navjot Singh Sidhu controversy, says 'Focus on the genuine problem'
A lot is being said about Kapil Sharma and Navjot Singh Sidhu after the latter's comments regarding the Pulwama terror attack. While Sidhu's words created quite a controversy and angered netizens, comedian Kapil Sharma kept mum about it, until now. Finally, the most popular comedian Kapil Sharma has broken his silence regarding everything that is being said about his show as well as the politician and said that whatever is happening is taking people away from the genuine problem and misleading them.  
While interacting with the media at an event in Chandigarh, Kapil Sharma was seen talking about the controversy and he said, "There should be a permanent solution to this problem. If sacking Sidhu Ji was a solution, then Sidhu Ji is smart enough to walk out of the show himself. So, people are being misled with hashtags like '#BoycottSidhu' and '#BoycottKapilSharmaShow'. Right now one should focus on the genuine problem and the attention of the youth should not be taken away from the real issue." The video was shared by Navjot Singh Sidhu on his Twitter along with the hashtag 'Iska Impact Ayega Ki Nahi'. Watch the video here-
#IskaImpactAyegaKiNahi pic.twitter.com/GwKhkWtCLn

— Navjot Singh Sidhu (@sherryontopp) February 18, 2019
In another video, Kapil Sharma added, "It's all propaganda that keeps on running on Twitter and I don't get involved in such things. I have started doing some good things and I want all of you to support me in this instead of creating controversies around my comments." When asked if any actions will be taken against Sidhu, Kapil revealed that, "I am not the producer of the show this time so it will be channel's decision."
More Bollywood stories and picture galleries
For all latest news and updates, stay tuned to our Facebook page