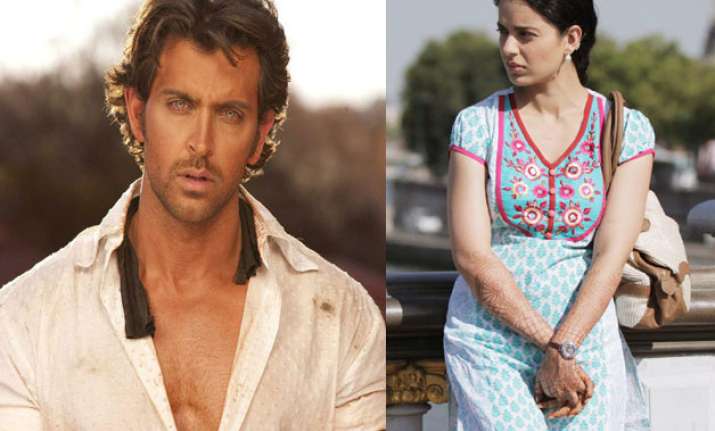 New Delhi: Be it a kid or a granny, everyone is talking about the unexpected rivalry going on in B-town.
We are talking about the cold war between Hrithik Roshan and Kangana Ranaut.
While this war of words is grabbing a lot of attention, there was a time when Hrithik and Kangana were said to be in love.
The couple, though never accepted their relationship, were quite serious about each other. However, destiny played its part and the two got separated. But just like their love affair, their break-up too became a mystery and no one could actually figure out what exactly happened between the two.
But now the actual reason behind Hrithik Roshan and Kangana Ranaut is out.
As per the media reports, Kangana's close friend has revealed that Hrithik got insecure when a young actor tried to woo the 'Queen' actress after she won the National Award in March 2014.
"But Hrithik felt insecure. He confronted her and asked if she wanted to tel him something. She told him not to be insecure about their relationship, but that didn't appease him," Kangana's friend to a leading daily.
"The final blow to their on-again, offagain relationship came in May 2014 at Karan Johar's party. They hadn't spoken for a couple of weeks. When they met at KJo's party, Kangana put her hand on Hrithik's arm. He reacted angrily and asked her how could she have set up a date with another actor for the following Wednesday," the friend said adding further, "Kangana didn't know what had hit her. Had the two been gossiping behind her back? How else could Hrithik have known about the meeting, she kept asking as she took the elevator."
While Hrithik refused to reveal anything, Kangana doubted if the actor had hacked into her email account.
"Kangana then realised that the young actor had shared his email address with her. She realised that Hrithik could have hacked into her email account and may have been impersonating him. Two days later, her fears came true when she met the young superstar again and he asked her out for coffee --he was clueless about the episode with Hrithik which meant that he was obviously not gossiping behind her back. She then pointed out to Rangoli (Kangana's sister and manager) that some of her mails had disappeared. She always knew that Hrithik was very tech-savvy. Shaken up by the fact, she called up Rakesh Roshan and told him that if her suspicions were true, Hrithik could land into a lot of trouble for cyber crime. Papa Roshan was really shaken by the conversation and told her that he would speak to Hrithik about it. She deleted the account and decided to wash her hands of the affair," the friend said.
We wonder who has been this actor who created troubles between Hrithik Roshan and Kangana Ranaut.