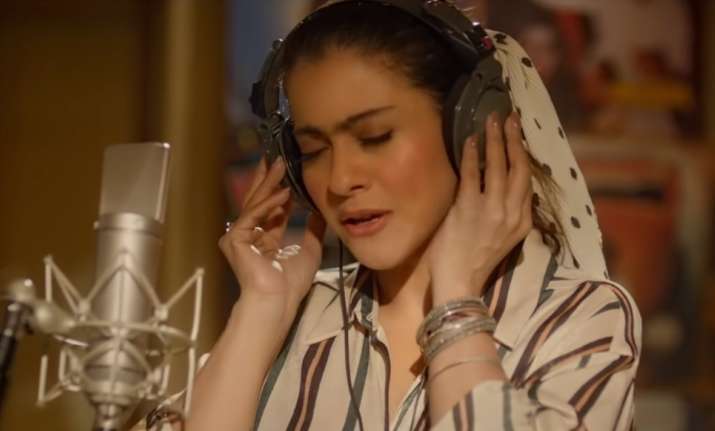 Kajol's upcoming film Helicopter Eela dropped another song from its music album, titled Yaadon Ki Almari. Earlier, a song named 'Mumma Ki Parchai' was released featuring the 'helicopter' mother Kajol with her son Riddhi Sen, an award-winning actor. In the second song, the Bollywood actress walks down the memory lane as she remembers her dream to become a singer.
Titled as 'Yaadon Ki Almari', the song features 44-year-old actress and her dream to become a successful singer. In the song, Kajol can be seen entering her son, Vivaan's (played by Riddhi Sen) college and befriending his mates. Moreover, ​Kajol also remembers her younger days with the love of her life played by Tota Roy Chowdhury and also making a career out of singing.
Crooned by Paloma Ghosh, the music is composed by Amit Trivedi while the lyrics are penned by Swanand Kirkire.
The song was launched at a college festival in Mumbai by both the lead actors of the film including Kajol and Riddhi Sen.
Talking about singing for Kajol, Palomi Ghosh said, "Singing playback for none other than Kajol, who's 'Awara bhawre' moves I imitated and felt happy when my family said I looked just like her doing it! My memories in college apart from studying lots of math include lots of singing as vocalist for our Indian band in the US. And now being given this chance in the movies is absolutely surreal."
Reinventing the process of parenting, the comedy-drama witnesses Kajol as a single mother and an aspiring singer, Eela, who joins her son's college to complete her education. The Pradeep Sarkar-directorial will hit the screens on September 7.