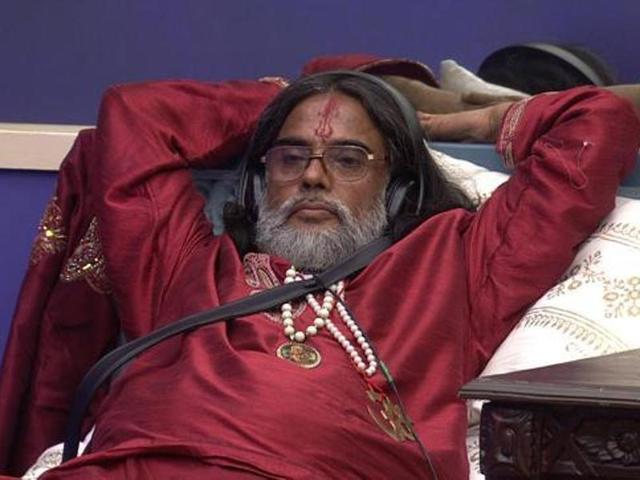 Bigg Boss 10 contestant Swami Om, who is known as controversy's infamous child, was thrashed by angry mob on 22 August in the premises of Supreme Court. The namesake recluse was reportedly speaking against the Triple Talaq verdict when an infuriated crowd caught hold of him and his friend and, thrashed them openly. The incident took place when apex court gave a historical judgement in the Muslim practice of Triple Talaq terming it as "illegal, sinful and retrograde". Swami Om was present at the court to stop Deepak Mishra from becoming the next Chief Justice of India, fresh reports suggest.
The former Bigg Boss contestant reportedly said that the apex's court verdict on Triple Talaq will result in jeopardy of men's freedom and, women will get more independence as compared to men. Watch the video right here.
This isn't that time that the self-acclaimed God man received the taste of whip. On the occasion of Nathu Ram Godse's birth anniversary, a programme was conducted in Delhi's Vikas Nagar area. Like any other guest, Swami Om was also invited for the event. As soon as the Big Boss 10 contestant went up the stage to make a quick speech, few people in the crowd grew agitated. The mob was furious that an imposter monk was invited over the birth anniversary of such a great personality. They took it as an insult to Nathu Ram Godse's name. 
Swami Om made huge headlines when he was arrested by inter-state cell of crime branch in connection with the theft case. He was accused of stealing cycles from the shop owned by his brother, nine years ago. During his stay in Bigg Boss house, he sparked many controversies . The self-proclaimed godman passed many lewd comments on his fellow inmates during the show.
Ever since, he made his entry to Bigg Boss house, he was into news for all wrong reasons. Even after getting multiple warnings from Bigg Boss, the self-proclaimed godman was in no mood to change. Thus, he was thrown out of the house.
For more entertainment news, follow our Facebook page