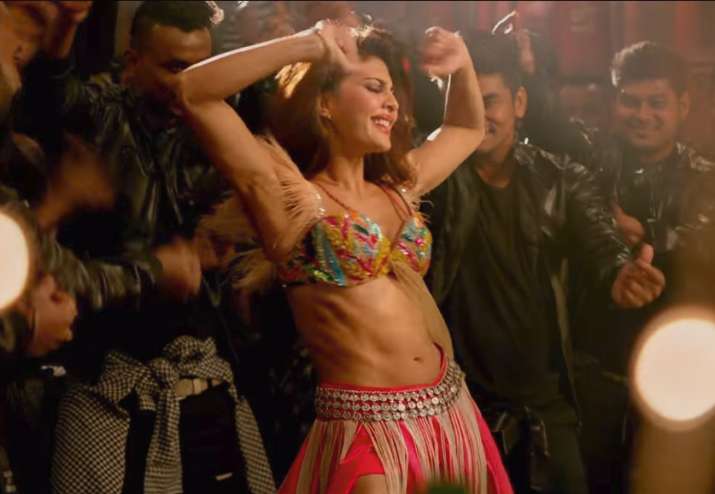 Bollywood music has suddenly become all about remixes. Take this latest version of Ek Do Teen enacted by Jacqueline Fernandez for an example. One thing is for sure, fans are not buying this revamped version of Madhuri Dixit's iconic number Ek Do Teen. Bollywood has been so used to rehash the old tracks into a new party anthem. We've seen a number of such remixes like Humma Humma, Tamma Tamma Again, Sanu Ik Pal and many more. It seems Bollywood's fixation for remixes is far from over. However, the music lovers had it enough and they're not liking Jacqueline Fernandez glamourizing Madhuri Dixit's famous dance number Ek Do Teen. Not only Saroj Khan and N Chandra, social media users also have expressed their dislike towards this new version.
When Jacqueline Fernandez shared the teaser of Ek Do Teen on her Instagram account, comments started flooding saying, 'ruined the song, old is gold'. Many users dubbed this new version as the 'super flop remake'.
'When will Bollywood stop ruining the classics? Are they short of new lyrics? Well, no but yes short of great minds!' asked some users.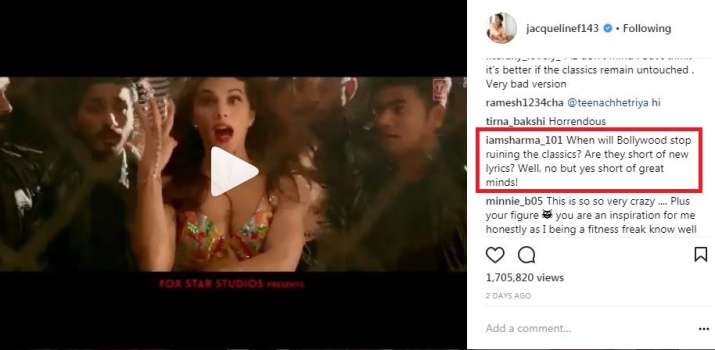 When Tiger Shroff and Disha Patani were present at a press conference during promotions of their film, they were asked about the backlash Jacqueline has been getting for the Ek Do Teen remake. Backing her Flying Jatt co-star, Tiger said, "I thought that was expected though. When you touch a remake, you are bound to get mixed reactions. Over here the only idea behind Ek Do Teen was to pay tribute to the legend like Madhuri ma'am. Nobody can match up to her. Let's put that out there and make it clear. That being said, I think Jacqueline worked very hard and did a good job on her part. Ganesh Acharya did a great job choreographing. He was a dancer in the original song with Madhuri ma'am. So that being said, in no way we were trying to blow our trumpet. That's not the idea. The idea is to pay homage to Madhuri ma'am and relive the tune of Ek Do Teen."
On the other hand, Disha Patani added, "No, it's doing so well. How many million views! Look at the positive. Views count. Views matter. It's got so many views in one day. People are comparing and you can't compare it to Madhuri ma'am. That is an iconic song. This is just a tribute. It's nothing even close to her."
Tezaab director N Chandra, who is the man behind the original composition is upset with the makers of Baaghi 2. He said, "I can't believe they've done this to 'Ek do teen'. It's crass beyond imagination. And Jacqueline Fernandez doing Madhuri Dixit's number? Give me a break! It's like turning the Central Park into a botanical garden. Madhuri danced with such grace and innocence. Anyone can do anything to your creation just because there are no laws to protect our property. I remember some years ago, R.D. Burman's 'Dum maro dum' had been similarly vandalised."