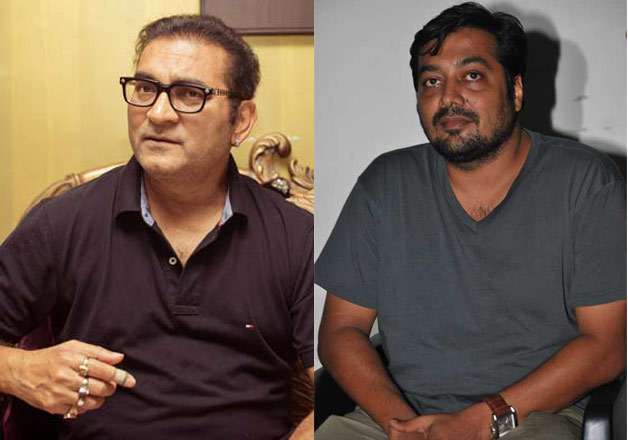 Singer Abhijeet Bhattacharya, who is known for not mincing his words, has lashed out at filmmaker Anurag Kashyap for targeting Prime Minister Narendra Modi over his Pakistan visit.
Kashyap has demanded an apology from PM Modi for his trip and meeting Pakistani PM Nawaz Sharif, in wake of the recent controversy brewing over the ban of Pak celebs in India.
The 'Akira' actor's questions didn't go down well with Abhijeet, who in turn locked horns with Anurag on micro-blogging site Twitter.
Bhattacharya, in his tweet, targeted Kashyap, Karan Johar and Mahesh Bhatt by referring to them as 'anti India brigade' and 'friends of terrorists'.
He wrote that PM Modi had tried communicating with Pakistan verbally but after failing at it, he chose to give a hard time to our neighbours.
On the other hand, filmmaker Madhur Bhandarkar too condemned Anurag's statement against PM Modi, saying that the ban isn't imposed by BJP or the Government. Bhandarkar further stated that making anti-Modi statements has become a trend these days.
Anurag Kashyap has been facing the flak after he came out in support of Karan Johar's 'Ae Dil Hai Muhskil, which is besieged by controversy over its release.
However, despite all the negative comments against him, Kashyap chose to stand by his words and stated, "I refuse to live in the fear created by blind fanatics that you cannot have a conversation with your PM or question him or expect from him".
'Ae Dil Hai Mushkil' is being targeted for featuring Pakistani actor Fawad Khan considering the ban of Pak celebs in India.
The ban was imposed by IMPPA as an aftermath of the Uri attacks in September which killed 19 Indian soldiers.
In fact, Raj Thackeray's MNS even threatened the Pakistani celebs to leave India post the attacks.
Subsequently, this ban has divided the showbiz industry in two segments and the celebs are brimming with their opinions over it making this debate a hot topic in the nation.