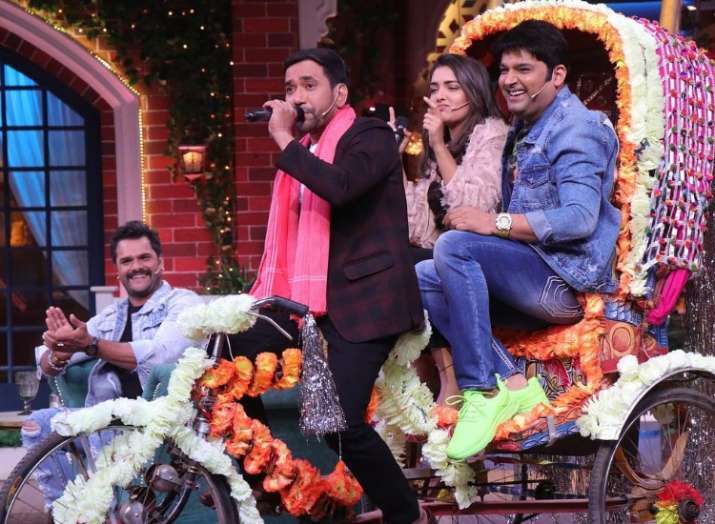 Khesari Lal Yadav along with Dinesh Lal Yadav aka Nirahua will be soon seen on the famous comedy show of Kapil Sharma. We shall be soon witnessing the colors of Bhojpuri cinema on the sets of The Kapil Sharma Show.  The videos of Bhojpuri stars Dinesh Lala Yadav, Amrapali Dubey, Khesari Lal Yadav and Rani Chatterjee enjoying on the sets of The Kapil Sharma Show are going viral. 
The Bhojpuri actors shared some of the interesting stories from their career and personal life. Nirahua urf Dinesh Lal Yadav will be seen giving training to Kapil Sharma, on how to work in Bhojpuri movies. They also had fun on a rickshaw ride. Not just this, Khesari Lal Yadav, an actor and a singer from the Bhojpuri film industry, took the audience to another level of excitement and zeal. He sang a song and the audience went crazy.
Dinesh Lal Yadav, who rose to fame after his appearance in Bigg Boss season 6, talks about how he used to bunk his classes and watched movies. He confessed that he is a Karishma Kapoor fan and used to watch her movies by bunking his NCC classes. In short, the episode turned out to be a funny and entertaining one. The rickshaw ride and the flair of Bhojpuri cinema on the sets of The Kapil Sharma Show brought the breath of some fresh air.
Khesari Lal Yadav started his career with a Bhojpuri movie, Saajan Chale Sasural and thereafter he rose to fame. He sings Bhojpuri songs too. Listen to his latest Bhojpuri song.
Also, BJP candidate Nirahua will be contesting election from Azamgarh Lok Sabha seat against Samajwadi Party (SP) chief Akhilesh Yadav.