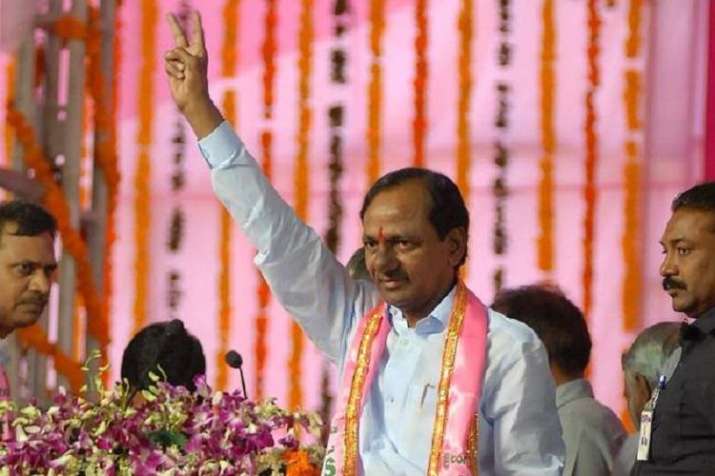 K Chandrasekhar Rao's gamble for early polls appears to have paid rich dividends as the Telangana Rashtra Samithi on Tuesday appeared to be advancing towards a three-fourth majority in the 119-member Assembly.
According to latest electoral trends, TRS is ahead on 92 constituencies while the Congress-led People's Front was leading in just 22 places.
People seem to have dismissed the alliance between the Congress and the Telugu Desam Party (TDP) as the four-party People's Front was heading for a drubbing.
Many top leaders of Congress were trailing in their constituencies while TDP, Telangana Jana Samithi (TJS) and Communist Party of India (CPI) were not leading in any of the constituencies they contested.
The victory will not only consolidate KCR's position in Telangana but also accelerate the momentum of his party to form an anti-BJP, anti-Congress alliance for the upcoming Lok Sabha elections.
HERE ARE THE HIGHLIGHTS OF TELANGANA ELECTION RESULTS
17:50 pm: TRS will have a legislature party meeting at 11:30 AM on December 12
17:20 pm: Had there been a regional party in Madhya Pradesh or Rajasthan, it would definitely have done well: Asaduddin Owaisi 
17:10 pm: AIMIM chief Asaddudin Owaisi extended his support to the victorious KCR in Telangana and said he has all capacities to form a non-Congress government. "This country requires a non-Congress and Non-BJP government. This nation requires leaders like KCR. I am with him," he said. AIMIM retained seven seats, and is trailing in one. "I would like to thank the people of Hyderabad for supporting our candidates. TRS' victory is historic and amazing," he added.
17:07 pm: Owaisi and I spoke about national politics, of how we can unite minority parties and communities in India. Make BJP-mukt Bharat and Congress-mukt Bharat: KCR in Hyderabad
  
17:02 pm: India needs to come out of the routine mudslinging, bickering and insulting that happens between BJP and Congress: KCR in Hyderabad
17:00 pm: Taking Hyderabad as a base, I will work in the national politics. We are going to unite the polity of India and the people of India. There are forces in the country that play dirty politics. It is not just about the alignment of parties. Today, minorities, majorities, dalits, OBCs, STs, everyone supported our party. Getting elected once is easy, retaining people's trust is difficult. I see this as a positive thing: KCR addressing media in Hyderabad
15:00 pm: Telangana caretaker minister and TRS candidate Talasani Srinivas Yadav wins from Sanath Nagar constituency by 30,217 votes.
14:19 pm: The Telugu Desam Party (TDP) said that  the Congress-led alliance, of which it is a part, needs to analyse and introspect on the grouping's "failure" in the Telangana Assembly elections.
"We have to analyse the factors that contributed to the success of TRS and failure of our alliance," said Ravula Chandrasekhar Reddy, senior leader of TDP, led by Andhra Pradesh Chief Minister N Chandrababu Naidu. "We were expecting to get more number of seats. The results are not to our expectations," Reddy told PTI.
The alliance which also comprised the Telangana Jana Samithi and the Communist Party of India, did not fare well, and "we have to analyse and introspect where it went wrong, and we have to work together", he said.
"We have to respect people's verdict", Reddy said, adding the alliance would now strive hard to see to it that the TRS government implements the "tall promises" made by the K Chandrasekhar Rao-led party.
14:08 pm: TRS chief KCR wins Gajwel by over 50,000 votes. Meanwhile, KTR is leading by 73,000 votes in Sircilla constituency.
13:28 pm: Congress delegation submits a complaint to Telangana Chief Electoral Officer (CEO) Rajat Kumar raising suspicions that Electronic Voting Machines (EVMs) have been manipulated in the state.
13:00 pm: As per the Election Commission, BJP is leading in 2 seats, Congress in 20, AIMIM in 5, TRS in 89, Telugu Desam in 2 and All India Forward Bloc in one seat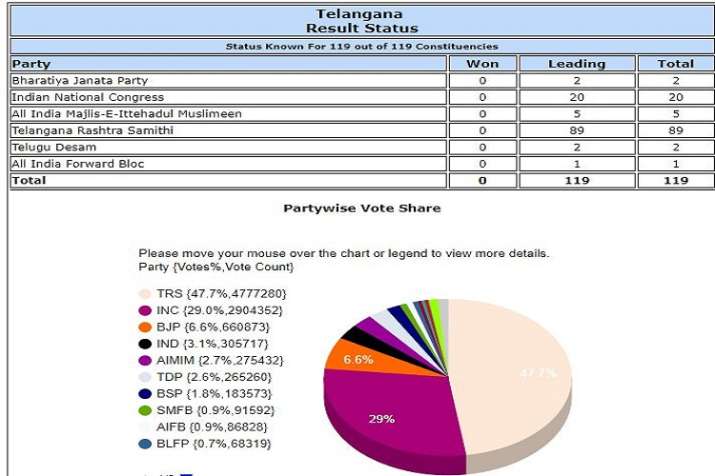 12:34 pm: CM KCR leads by over 33,000 votes in Gajwel
12:30 pm: Telangana Rashtra Samithi Legislature Party will hold a meeting in the evening today to elect KCR as its leader.
12: 27 pm: Commenting on the TRS sweep in Telangana assembly election, party leader AP Jithender Reddy told PTI, "This was expected because the people have accepted the (welfare) schemes (initiated by the government)...the infrastructure that has been built....24-hour power supply and timely pensions." Jithender Reddy is the party's floor leader in the Lok Sabha.
12:22 pm: Massive win for TRS candidate from Siddipet assembly constituency T Harish Rao. He won 92, 909 votes. Harish Rao is KCR's nephew.
12:18 pm: Nothing is yet clear from the trends. Congratulations to the MLA candidates and the political parties that are winning. But Mahagathbandhan has failed terribly in Telangana, says Home Minister Rajnath Singh.
11:51 am: Official ECI trends: TRS leading on 90 seats, Congress leading on 16 seats, AIMIM on 5 seats, BJP leading on 1 seat, and others on 3 seats in Telangana. 
11:43 am: Telangana Pradesh Congress Committee's Uttam Kumar Reddy told ANI that he is doubtful about the results coming out of Telangana ballot paper counting. "We're doubting that tampering could have been done in EVMs. Slips should be counted in VVPATs. All the Congress leaders will complain to RO officers. We will also complain to ECI on this matter," he said.
11:42 am: TRS now ahead on 93 seats. 
11:29 am: TRS president K Chandrasekhar Rao is leading by 9,212 votes over his Congress rival Vanteru Pratap Reddy in Gajwel constituency after the fifth round of counting
10:14 am: KCR-led TRS cruises towards thumping victory, ahead on 91 seats
10:00 am: Akrabuddin Owaisi wins from Chandrayangutta.
09:55 am: KCR  all set to form government for the second consecutive term, TRS ahead on 88 seats.
09:40 am: Out of the 100 seats counted so far, TRS ahead on 77, Congress on 20 and Others on 3
09:33 am: TRS has extended its lead, ahead on 60 seats, Congress on 33 seats, Others on 11 seats.
09:27 am:  TRS gets lead, ahead on 56 seats, Congress on 34 seats, Others on 12
09:23 am:  BJP is leading in Bahadurpura. Caretaker CM K Chandrasekhar Rao is leading in Gajwel and his nephew Harish Rao is leading in Siddipet.
09:22 am: TRS leads in Gajwel, Siddipet, Sircilla, Husnabad, Banswada, Jubilee hills, Seri Lingampally, Makthal, Wanaparthi, Nagarjuna Sagar, Zaheerabad, Kodad, Sanathnagar.
09:16 am: TRS gets lead, ahead on 49 seats, Others on 45 seats
09:00 am: TRS ahead on 36 seats, Others on 42 and BJP on 4 seats.
08:55 am: TRS ahead on 34 seats, others ahead on 34 seats in postal vote counting.
08:50 am: TRS ahead on 15 seats, others ahead on 25 seats in postal vote counting.
08:34 am:  In postal vote counting Others lead in 10 seats, TRS leads in 8 and BJP in 2
08:17 am: TRS gets early lead, wins in three seats, others win two seats.
08:00 am:  Counting of votes for Rajasthan, Madhya Pradesh, Chhattisgarh, Mizoram and Telangana begins. TRS leads by one seat.
07:20 am: Earlier on Monday, AIMIM president Asaduddin Owaisi endorsed Telangana caretaker Chief Minister K Chandrashekhar Rao as the next chief minister of the state and has expressed confidence that he will form the government without anyone else's support, reported ANI.
"I want all my eight candidates to win and we want KCR to become the chief minister of Telangana," Owaisi said.
06:55 am: The IndiaTV-CNX Poll has predicted a resounding victory for TRS and KCR this time.
06:20 am: In the 2014 assembly election, the TRS bagged 63 seats with a vote share of 34 percent and the Congress 21 seats with 25 percent vote share.
06:00 am: Counting of postal ballots will begin at 8.00 am. The process to count votes from the Electronic Voting Machines (EVMs) will begin half-an-hour after the postal ballots are counted.
TELANGANA ASSEMBLY  ELECTIONS: SIGNIFICANCE
The Telangana Results will determine the fate of TRS. It's definitely a do-or-die battle for KCR and TRS. If KCR wins a second term, not only will he consolidate his position in Telangana but also accelerate the momentum of his party to form an anti-BJP, anti-Congress alliance for the general elections.
If the Prajakutami or Congress-TDP-TJS-CPI grand alliance wins the polls, it would boost the party's morale ahead of the 2019 Lok Sabha Polls. But if it loses the election, it will cripple efforts for a 'Mahagathbandhan'. This will not only be a blow for the Congress but will also leave regional parties scattered in their efforts to counter the BJP wave across India.
It will be a litmus test for BJP who is contesting 118 of the 119 seats. 
KEY BATTLES TO WATCH OUT FOR
1.  Gajwel
Battle: KCR (TRS)  vs Vanteru Pratap Reddy (Congress) v/s Akula Vijaya (BJP)
Currently, the seat is being held by KCR, who is aiming not only to consolidate his position in Telangana but also hoping to spread his wings in New Delhi. Holding on to the seat, however, seems difficult. His competitor Vanteu Pratap Reddy from the Congress, who lost to KCR in 2014, has ensured that, in the last four years, he makes his mark in the constituency.
2. Sirsilla
Battle: KT Rama Rao (TRS) v/s KK Mahender Reddy (Congress) v/s N Narsa Goud (BJP)
A TRS bastion, currently held by KT Rama Rao. The seat holds importance due to the rumours of Rao being made CM if TRS comes to power. So to give a tough fight, the Congress has placed one of the most popular Telangana leaders, KK Mahender Reddy for the same seat.
3. Nalgonda
Battle: Komatireddy Venkat (Congress) v/s K Bhupal Reddy (TRS) v/s S Shanmukha (BJP)
The seat is held by the man who could possibly be the next chief minister in the state if Congress comes to power, Komatireddy Venkat. A very vocal critic of KCR, the latter has pitched his strong man Bhupal Reddy against him. Reddy was also ousted by the TRS from the Assembly, but a High Court order overturned the suspension.
4. Chandrayangutta
Battle: Akbaruddin Owaisi (AIMIM) v/s Syed Shehzadi (BJP) v/s Es Misri (Congress) v/s Seetharam Reddy (TRS)
The AIMIM's bastion is represented by Akbaruddin Owaisi. It would be tough battle as BJP has fielded its Muslim candidate, Shehzadi, a young ABVP leader from Osmania University.
5. Goshamahal
Battle: T Harish Rao (TRS) v/s M Bhavani Reddy (TJS) v/s Narottam Reddy (BJP)
Yet again a TRS bastion held by Harish Rao, he has been elected five times from this seat. It's his stronghold that is being challenged by TJS's candidate Bhavani Reddy, a candidate fielded by the grand alliance.
6. Siddipet
Battle: T Raja Singh Lodh (BJP) v/s Mukesh Goud (Congress) v/s Premsingh Rathod (TRS) 
Represented by BJP's Raja Singh Lodh, one of the most controversial leaders in Telangana at the moment, the seat has been the epicentre for politics over beef and cow. The constituency is notable a Muslim dominated constituency. 
7. Kodangal
Battle: Revanthi Reddy (Congress) v/s Patnam Narender Reddy (TRS) v/s N Namaji (BJP)
The Congress' stronghold represented by working president Revanth Reddy. The competition turns interesting as Reddy was once with the TRS during the fight for a separate state, who is now fighting TRS's strong candidate and interim minister's brother Patnam Narender Reddy. Revanth Reddy was also arrested by the Telangana police recently for threatening to disrupt KCR's public meetings.
8. Huzurnagar
Battle: Uttam Kumar Reddy (Congress) v/s S Saidi Reddy (TRS) v/s B Bhagya Reddy (BJP)
A seat being fought between one of the Congress' strongest leader Uttam Kumar Reddy and TRS's Saidi Reddy, a non-resident Indian.
For full coverage of Rajasthan Assembly Election Results, Click Here
For full coverage of Chhattisgarh Assembly Election Results, Click Here
For full coverage of Mizoram Assembly Election Results, Click Here
For full coverage of Madhya Pradesh  Assembly Election Results, Click Here