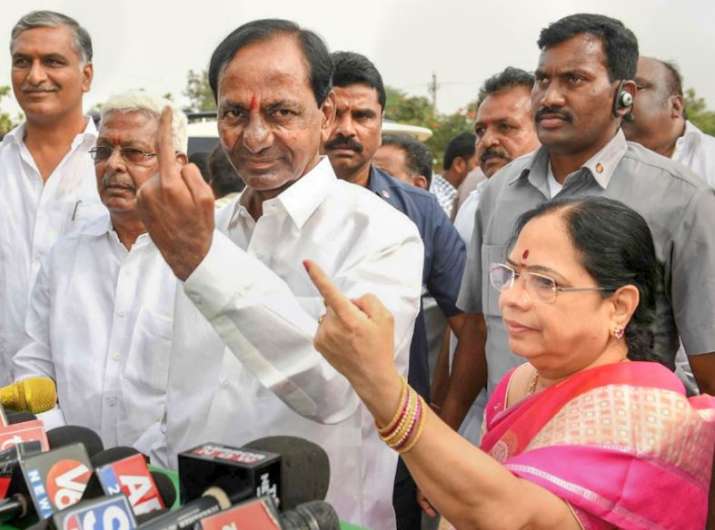 Telangana Chief Minister K. Chandrashekhar Rao is likely to retain power for second consecutive term in the state, according to India TV-CNX Exit Polls.
The ruling TRS may get a clear majority by winning 66 seats within a range of 62 to 70 seats, according to these exit polls.  
The Maha Kootami (Maha Gathbandhan) of Congress, TDP, Relangana Jana Samiti and CPI, may win only 37 seats. Out of this, Congress may win 32 to 38 seats and TDP may win one to three seats. Asaduddin Owaisi's AIMIM may win six to eight seats, while the BJP may win six to eight seats, leaving two seats to independents. 
Vote share wise, TRS may get 37.11 pc of total votes, a hike of 2.81 pc compared to 2014 polls, while Congress may get 29.23 pc and TDP may get 2 per cent votes. AIMIM may get 3.5 per cent votes.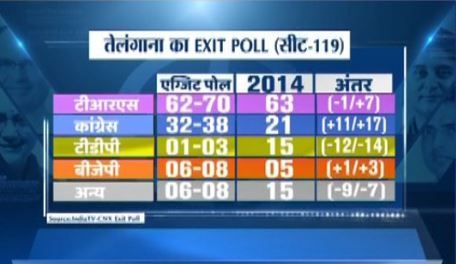 The exit poll was conducted today at 400 polling states covering 40 assembly seats, and questionnaire was given randomly to 4800 men and women voters in the age group 18-60 years.
Watch: TRS likely to form government in Telangana