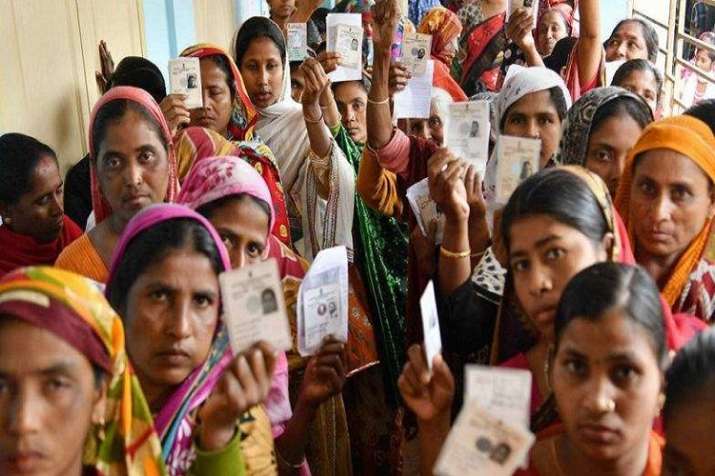 The stage is set for fierce battle as Telangana is all geared of its first independent assembly elections on December 7. The counting of votes will take alongside Chhattisgarh, Madhya Pradesh, Mizoram and Rajasthan on December 11.
The ruling Telangana Rashtra Samiti (TRS) led by K Chandrasekhar Rao (KCR) is hoping to repeat its 2014 victory. The Congress, on the other hand, has left no stone unturned to regain foothold in the state, which was once its bastion as part of Andhra Pradesh. The party has entered into a pre-poll grand alliance (named Praja Kutami) with Telugu Desam Party (TDP), Communist Party of India (CPI) and newly formed Telangana Jana Samithi (TJS).
The Bharatiya Janata Party (BJP) and All India Majlis-e-Ittehad-ul Muslimeen (AIMIM) are other major political parties in fray.
Let's look at how various political parties fared and how various regions vote in 2014 elections.
In the 2014 assembly election, the TRS bagged 63 seats with a vote share of 34 percent and the Congress 21 seats with 25 percent vote share.
The TDP had then fought the poll in alliance with BJP. The TDP won 15 seats with 14.5 percent vote share and the BJP five with seven percent vote share. AIMIM managed to win seven seats, YSR Congress three seats and Bahujan Samaj Party two seats in the state. Communist Party of India, Communist Party of India (Marxist) won one seat each, while the remaining one seat was won by an Independent candidate.
PARTY WISE SEAT SHARE IN 2014 ASSEMBLY ELECTIONS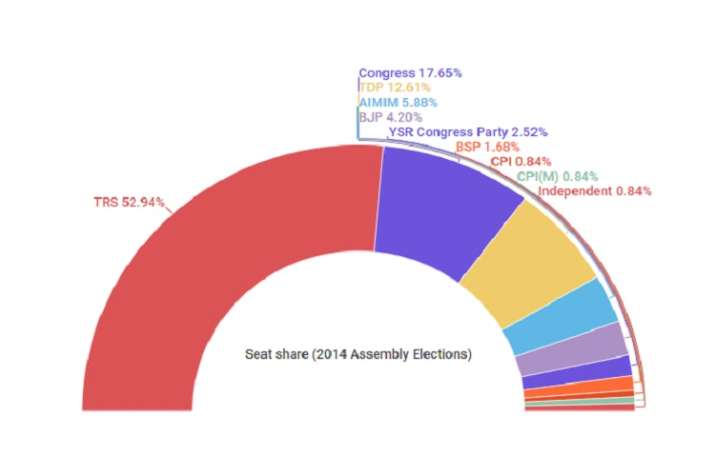 Region-wise analysis
Hyderabad
Constituencies: Amberpet, Bahadurpura, Chandrayangutta, Charminar, Goshamahal, Jubilee Hills, Karwan, Khairatabad, Malakpet, Musheerabad, Nampally, Sanathnagar, Secundarabad, Secundarabad Cantt, Yakutpura
This is the only region with the least grip of ruling TRS. With a majority of Muslim population, as many as seven seats have been ruled by AIMIM, four by BJP, three by TDP and just one by TRS. BJP state chief K Laxman holds one of the constituencies in the region – Musheerabad.
Ranga Reddy
Constituencies: Chevella, Ibrahimpatnam, Kukatpally, Lal Bahadur Nagar, Maheshwaram, Malkajgiri, Medchal, Pargi, Quthbullapur, Rajendranagar, Serilingampally, Tandur, Uppal, Vikarabad
The region shows domination of N Chandrababu Naidu-led TDP with the party ruling seven out of 14 seats. TRS runs behind TDP with four seats, while Congress rules two and BJP one seat in the region.
Medak
Constituencies: Andole, Dubbak, Gajwel, Medak, Narayankhed, Narsapur, Patancheru, Sangareddy, Siddipet, Zahirabad
The region was dominated by TRS with the party emerged victorious on eight out of 10 seats in the polls. It includes important Gajwel and Siddipet seats ruled by caretaker CM KCR and his nephew and state minister T Harish Rao, respectively.
Adilabad
Constituencies: Adilabad, Asifabad, Bellampalli, Boath, Chennur, Khanapur, Mancherial, Mudhole, Nirmal, Sirpur
TRS managed to win 70 percent seats in the region, which is seven out of 10. Two were won by BSP, while one went to Congress' kitty.
Karimnagar
Constituencies: Choppadandi, Dharmapuri, Husnabad, Huzurabad, Karimnagar, Koratla, Jagtial, Manakondur, Manthani, Peddapalle, Ramagundam, Sircilla, Vemulawada
The region is highly dominated by TRS with a tally of 12 out of 13 seats falling in its basket. One of the seats ruled by KCR son and state minister KT Rama Rao. The TRS leader fought and won from Sircilla.
Khammam
Constituencies: Aswaraopeta, Bhadrachalam, Khammam, Kothagudem, Madhira, Palair, Pinapaka, Sathupalli, Wyra, Yellandu
The fight in this region was closer than any other. Congress won four seats and was closely followed by YSR Congress party with three seats. TRS, TDP and CPI won one seat each.
Mahbubnagar
Constituencies: Achampet, Alampur, Devarkadra, Gadwal, Jadcherla, Kalwakurthy, Kodangal, Kollapur, Mahbubnagar, Makthal, Nagarkurnool, Narayanpet, Shadnagar, Wanaparthy
The region was largely dominated by TRS, which gain foothold on seven seats. Next was Congress with five seats, while TDP won on two seats.
Nalgonda
Constituencies: Alair, Bhongir, Devarakonda, Huzurnagar, Kodad, Miryalguda, Munugode, Nagarjuna Sagar, Nakrekal, Nalgonda, Suryapet, Thungathurthy
This was another close-contested region. The seat sharing was six and five by TRS and Congress, respectively. Remaining one seat was won by CPI. Congress state chieg Uttam Kumar Reddy is MLA from Huzurnag constituency.
Nizamabad
Constituencies: Armur, Balkonda, Banswada, Bodhan, Jukkal, Kamareddy, Nizamabad (Urban), Nizamabad (Rural), Yellareddy
This is the only region which is completely ruled by TRS.
Warangal
Constituencies: Bhupalpalle, Dornakal, Jangaon, Ghanpur, Mahabubabad, Mulug, Narsampet, Palakurthi, Parkal, Warangal East, Warangal West, Wardannapet
The region highly supported KCR and his party, as voters in eight out of 12 seats cast their votes in its favour. Two seats were won by TDP, while Congress and an Independent candidate won one seat each.
In subsequent months, after poll results, the ruling party went on a poaching spree and increased its strength to 90, with legislators from the Congress, the TDP, the YSR Congress Party and the CPI.
The assembly speaker sat on their disqualification petitions, forcing the opposition parties to approach the Supreme Court, where the matter was pending when the assembly was dissolved prematurely in September.