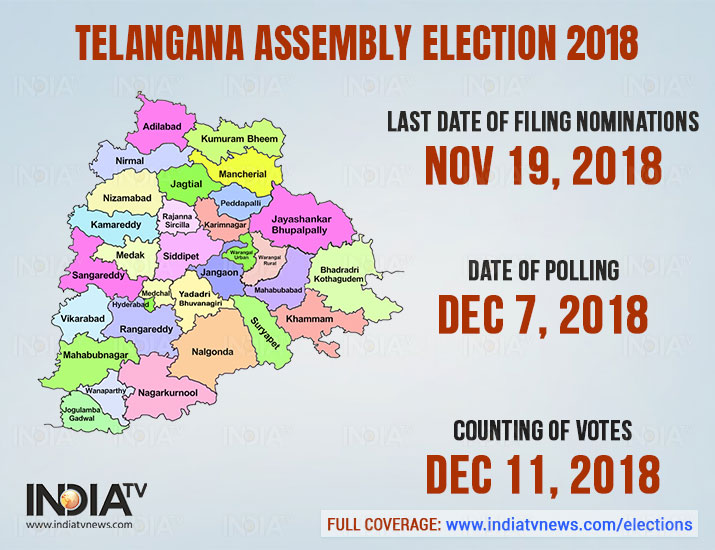 Assembly polls in Chhattisgarh, Madhya Pradesh, Mizoram, Rajasthan and Telangana will be held between November 12 and December 7 in what may be a virtual semi-final to the 2019 Lok Sabha elections.
Counting of votes will be taken up together in all the five states on December 11, the Election Commission announced Saturday. While Chhattisgarh will go to the polls in two phases on November 12 and 20, elections in Madhya Pradesh and Mizoram will be held on November 28. Polling in Rajasthan and Telangana will be held on December 7, Chief Election Commissioner (CEC) OP Rawat announced.
The model code of conduct, which bars the ruling party and even other parties from disturbing level playing field, came into force in Madhya Pradesh, Rajasthan, Chhattisgarh and Mizoram immediately.  The term of the Madhya Pradesh assembly is ending on January 7, Rajasthan on January 20, Chhattisgarh of January 5 and Mizoram on December 15.
Putting in place security arrangements for the polls, the Union Home Ministry has ordered for the deployment of about 25,000 troops for election duties in Chhattisgarh, Madhya Pradesh and Rajasthan.
These paramilitary and state police personnel, part of the additional 250 companies to be sent in for the polls, have been asked to take position by October 15 in states assigned to them.  While 50 fresh companies each have been marked to be sent to Madhya Pradesh and Rajasthan, the highest of 150 such teams have been earmarked by the ministry to be sent to Chhattisgarh that has its southern part affected by a high-level threat of Maoist violence.
A single state police or Central Armed Police Force (CAPF) company has about 100 personnel. This time, to ensure "wholesome and constructive participation" of persons with disabilities in the election process, the Commission has decided to issue accessible photo voter slips with braille features to persons with visual impairment.
COMPLETE DETAILS OF POLL SCHEDULE 
Number of seats: 119
Date of notification: November 12, 2018
Last date of nomination: November 19, 2018
Date of scrutiny: November 20, 2018
Last date of withdrawal of nomination: November 22, 2018
Date of polling: December 7, 2018
Date of counting:  December 11, 2018
 In Telangana, the ruling Telangana Rashtra Samithi (TRS) had dissolved the assembly on September 6, paving way for early elections.Telangana Rashtra Samithi is seen to be going strong and will face contest from the Congress and the BJP. After winning 63 seats in the 2014 assembly polls, the TRS' ranks have swelled with members of rival parties joining it over the years. The state assembly has 119 seats.