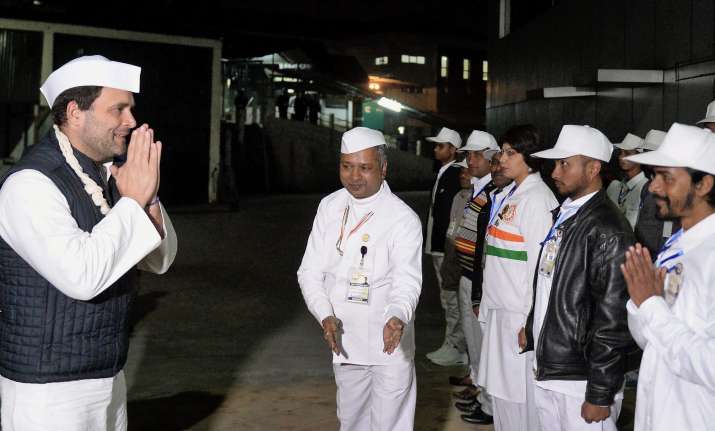 With over 100 members resigning over allotment of tickets in Meghalaya, Congress chief Rahul Gandhi today asked partymen to work together and ensure the party's victory in the February 27 assembly polls.  
Gandhi's appeal assumed significance as former cabinet minister A L Hek had joined the BJP while five others including veteran leader and former deputy chief minister Rowell Lyngdoh had switched over to the National People's Party. 
Hundred party members of Chokpot assembly seat in South Garo Hills district resigned on January 28 in protest against Lazarus Sangam's nomination while another 15 Congress members from Jirang seat in Ri Bhoi district quit over ticket allocation to Witness Syngkli. 
"I am here to tell you that the Congress party is going to work together. We will protect your languages and tribal customs. We are not going to allow the imposition of one idea," a senior Congress leader quoting Gandhi as saying at the party meeting here. 
Gandhi also lauded the Mukul Sangma government in the state for launching the social audit bill and stated that Meghalaya is one of the few states that provides universal healthcare. 
He accused the BJP and the NPP of using money power ahead of the assembly election. 
"I am very sad to hear that the BJP offered money to our churches. No amount of money can buy the people of Meghalaya," Gandhi was quoted as saying. 
Union minister K J Alphons had announced a Rs 70 crore package for development of places of worship across the state under the 'Swadesh Darshan' scheme.  The Congress president also criticised the BJP for destroying the right to information and weakening the Lokayukta in BJP-ruled states.