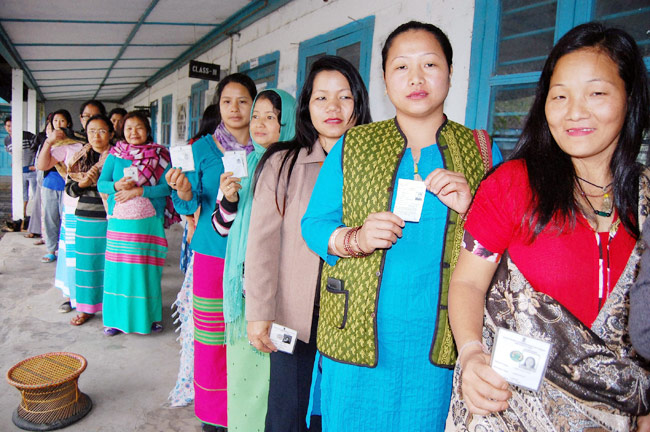 Voting is underway in Pakke-Kessang constituency in East Kameng district and Likabali seat in Lower Siang district of Arunachal Pradesh. A total 7,455 voters including 3943 females would exercise their franchise in 29 polling stations in Pakke-Kessang, while 10608 electorates including 5331 female voters would cast their votes in 39 polling stations in Likabali constituency.
The Pakke-Kessang seat is all set for a straight contest between former deputy chief minister Kameng Dolo, who is contesting on a Congress ticket and BJP nominee B R Waghe, while the Likabali constituency would see a multi-cornered contest with four candidates in the fray. They are Kardo Nyigyor (BJP), Modam Dini (Congress), Gumke Riba of Peoples's Party of Arunachal and Independent candidate Sengo Taipodia.
The Likabali seat had fallen vacant after the state health and family welfare minister Jomde Kena passed away on September 4 this year.
The Pakke-Kessang fell vacant after the Gauhati High Court declared null and void the election of Dolo in the 2014 polls following an election petition filed against him by BJP nominee and former minister Atum Welly.
Welly had alleged that a fraudulent move threw him out of the election as the EC had accepted a forged letter of withdrawal of his candidature that led to election of his lone opponent.
Dolo had won the seat unopposed and Welly had said in his petition that withdrawal of his candidature was illegal as his signature was forged.
EVMs and Voter-Verified Paper Audit Trail (VVPAT) system, which would be used for the first time in the state, have already been installed in the polling booths.
Heavy security arrangements for peaceful polls 
Joint Chief Electoral Officer DJ Bhattacharjee said that elaborate security arrangements have been made and state police, ITBP and four companies of central paramilitary forces have been deployed.
The critical polling booths would be covered by CRPF and IRB personnel, he said.
Altogether 150 polling personnel have been deployed for Pakke-Kessang, while 220 polling personnel would conduct the polling in Likabali, the joint CEO informed.
The Election Commission has appointed general and expenditure observers to oversee the entire polling process.
Counting halls have been set up in both the districts for counting of votes which would take place on December 24.
Meanwhile, elections are also being held today in Tamil Nadu's RK Nagar, Uttar Pradesh's Sikandra Assembly constituency and Sabang in West Bengal.
(With input from agencies)