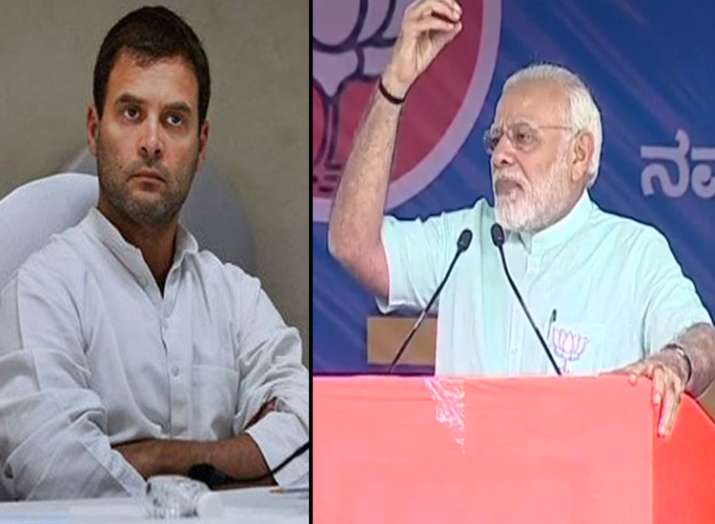 Prime Minister Narendra Modi on Tuesday hit the campaign trail in Karnataka where Assembly elections are scheduled to be held on May 12. Addressing the first of his three rallies planned for today, PM Modi unleashed a volley of taunts against Congress president Rahul Gandhi.
Speaking at a rally in Chamarajanagar, PM Modi, who was being translated into Kannada by a translator, said Rahul Gandhi should face the public in the state. 
PM Modi's Karnataka campaign: Highlights
PM Modi mocked Rahul Gandhi over his statement that he (Modi) won't be able to stand in Parliament if allowed a 15-minute speech. "It'll be a big thing if he speaks for 15 minutes. I challenge you (Rahul) to speak for 15 minutes on the achievements of your government in Karnataka without reading from any piece of paper. You can choose to speak in whatever language you want," Modi said.
"Congress president, Sir, we cannot sit before you. You are 'naamdar' (famous), while I am 'kaamdar' (ordinary worker). We have no status to sit in front of you," he went on to add.
PM Modi, who greeted the crowd in Kannada, expressed confidence of BJP winning an overwhelming majority in Karnataka and said that he sees a tsunami in favour of the party and not a wave.
Karnataka Assembly Elections 2018: Full Coverage
He said the BS Yeddyurappa is going to take oath as the CM of Karnataka soon. "BS Yeddyurappa is the hope of the people of Karnataka and he is going to be the future chief minister of the state," PM Modi said.
During a recent trip to his Lok Sabha constituency Amethi, Rahul Gandhi had said that the Prime Minister has the time to travel all over the country but he could not spare 15 minutes for the Lok Sabha.
"Prime Minister is travelling across the country, but he does not have 15 minutes to give a speech in the Lok Sabha," Gandhi had said.
"15 minute de dein, khare nahin ho payenge Lok Sabha mein (He will not be able to face the Lok Sabha even for 15 minutes, he will not be able to answer our queries)," he said.
Watch: PM Modi responds to Rahul Gandhi's '15-minute speech' challenge