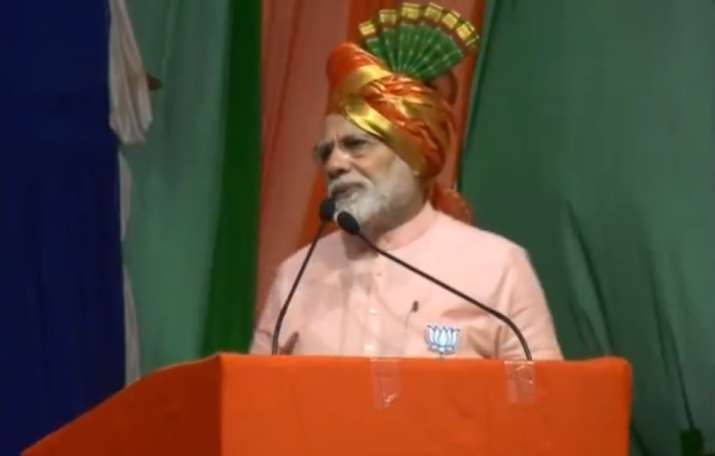 In his bid to add another state to BJP's kitty, Prime Minister Narendra Modi on Tuesday launched his campaign blitzkrieg in Karnataka, which goes to polls on May 12. 
In his first rally for the day at Santhemarahalli in Chamarajanagara district,  PM Modi launched a blistering attack on Congress and party president Rahul Gandhi over a range of issues, from disrespecting the National Song to Siddaramaiah government's alleged failure in Karnataka. 
On his next stop in Udupi, PM Modi visited Krishna Mutt and took blessings of the Pejawar seer before addressing a public rally at AGM College Ground. At Udupi, PM Modi continued his attack on Congress as asked the public to fulfill 'Mahatma Gandhi's dream of dismantling Congress'. PM Modi also address a rally of the day in Chikkodi. 
Also read | Karnataka Assembly Elections 2018: PM Modi attacks Rahul Gandhi over his 'sanskar' and 'ahankar' in Udupi rally, says he disrespected ex-PM HD Deve Gowda
Highlights of PM Modi's rally in Belagavi, Karnataka
Watch video: 
06:48 pm: Farmer welfare is a priority for us. We brought the soil health cards, ensured MSP at 1.5 times of input cost, implemented the Fasal Bima Yojana: PM
06:47 pm: We want our farmers to become prosperous. That is why we ensured neem coating of urea. This significantly helped the farmers and stopped black marketing of urea: PM
06:45 pm: Siddaramaiah government did nothing for the farmers in Karnataka. Why did they not ensure proper irrigation facilities to the farmers? : PM
06:38 pm: Congress is jealous because it was our government that got the majority and a person for humble background became the Prime Minister: PM
06:35 pm: Congress can not live without power. That is why they are spreading lies, dividing people on the grounds of caste: PM
06:34 pm: Congress never respected Baba Saheb Ambedkar. They never accepted Baba Saheb's views: PM Modi
Highlights of PM Modi's rally in Udupi, Karnataka
Watch PM Modi at public rally in Udupi, Karnataka
03:45 pm: 
The crowd in Udupi urged with cheer to listen to PM Modi's speech uninterrupted in Hindi, without translation in Kannada. Language is clearly no barrier when it comes to people's love and affection for their leader Shri @narendramodi. #NammaModi pic.twitter.com/sxr0ng437p

— BJP (@BJP4India) May 1, 2018
03:43 pm: It is now up to Karnataka to fulfill Mahatma Gandhi's dream to dismantle Congress: PM Modi
03:41 pm: Congress chief has been disrespectful towards former prime minister Deve Gowda, if he is so egoistic at the beginning of his career what would he do in future: PM Modi on Rahul Gandhi
03:40 pm: There might be political differences between parties but civility and respect should be maintained. Whenever former PM Deve Gowda Ji visits me in Delhi I always welcome him with respect & always give him time. The way Rahul Gandhi talked about him recently is shameful: PM Modi
03:38 pm: Violence cannot be accepted in a democracy. It is shameful how BJP Karyakartas were murdered in Karnataka. The Congress must answer on increasing crimes: PM
03:36 pm: Over two dozen BJP workers killed in Karnataka under the Congress government for raising their voice for people of state: PM Modi
03:35 pm: We are talking about enhancing 'Ease of Doing Business' in the country, but Congress believes in 'Ease of Doing Murder'. This is the culture they have developed: PM Modi
03:33 pm: We opened bank accounts for the poor. Over 31 crores accounts have been opened under Jan Dhan Yojana. If the Congress had ensured their bank accounts, the poor would have contributed so much to the economy: PM Modi 
03:31 pm: Congress allowed a handful of people to "loot" banks: PM
03:30 pm: Congress kept banking services limited to handful people to keep the poor stuck in poverty: PM
03:25 pm: Jan Sangh's connection with Udupi goes back 40 years: PM
03:21 pm: We will leave no stone unturned to fulfill aspirations of people of Karnataka and ensure all-round development of the state: PM Modi
03:20 pm: People of Karnataka have decided to punish the Congress in the assembly elections: PM Modi
03:15 pm: PM Modi begins addressing Public Rally in Udupi, Karnataka
Highlights of PM Modi's rally at Chamrajanagar
02:19 pm: 
PM Modi's challenge to Rahul Gandhi : speak for 15 minutes on Congress govt's achievements in Karnataka without reading from any piece of paper, in any language, Hindi, English or even your mother's mother tongue & mention 'Vishweshwaraiah' at least five times in the speech. pic.twitter.com/Lfx9znjt6V

— BJP (@BJP4India) May 1, 2018
01:44 pm: Congress is led by Rahul Gandhi who has no knowledge of India's history, has no respect for 'Vande Mataram', is not even aware of the promises made by his party's govt. Will he ask Manmohan Singh & Sonia Gandhi why they failed to fulfil the promises of electrifying all villages?: PM Modi in Chamarajanagar
12:55 pm: Congress continues its policy of 'latkana, atkana and bhatkana': PM Modi
12:52 pm: It is the NDA government that is working to transform the lives of farmers. The farmers of Karnataka are benefitting from the various initiatives of the central government: PM Modi 
12:50 pm: Congress' habit of doing politics in development has caused huge losses to Karnataka: PM Modi
12:47 pm: In Karnataka there is no law, there is no order. The Lokayukta is not safe, how can the common people be safe: PM Modi
12:46 pm: Why are the people of Chamarajanagar not getting access to proper drinking water, jobs and why is the tourism potential here not being harnessed. What is the state government doing? : PM
12:44 pm: If CM has a 2+1 formula then Ministers have 1+1 formula. Relatives of Ministers are fighting polls. This is hurting the workers of the Congress: PM Modi
12:42 pm: There is 2+1 formula which being practiced in Karnataka, it is a version of the Congress's family politics in Karnataka. Kabhi kabhi jaagnewale aur zadatar soonewale yahan ke CM ka yeh political innovation hai: PM Modi in Mysuru
12:41 pm: Our government has ensured financial security for farmers under Safal Beema Yojana. We have announed new MSP scheme to ensure farmers get the right value for their produce: PM Modi
12:40 pm: 
Sonia Gandhi, as UPA chairperson, had said in 2005 that all households will be electrified by 2009 under 'Rajiv Gandhi Grameen Vidyutikaran Yojana'. Will she and her son Rahul Gandhi answer why this was not achieved? PM Modi #NammaModi pic.twitter.com/7BRaOfGWJ5

— BJP (@BJP4India) May 1, 2018
12:35 pm: I challenge you (Rahul Gandhi) to speak for 15 minutes on the achievements of your government in #Karnataka without reading from any piece of paper. You can speak in Hindi, English or your mother tongue: PM Modi
12:34 pm: 
Manmohan Singh had launched Rajiv Gandhi electrification scheme to electrify all villages by 2009. Instead of questioning our achievement, will he, Sonia Gandhi and Rahul Gandhi answer why this promise was not fulfilled? #NammaModi pic.twitter.com/xHQCbPY9br

— BJP (@BJP4India) May 1, 2018
12:31 pm: He (Rahul Gandhi) had challenged me that if he speaks for 15 minutes then I will not be able to stand in front of him. Yes, you are right, you are a 'naamdar', what right do we 'kaamdaars' have to even sit in front of you: PM Modi in Mysuru
12:28 pm: The Congress is led by leaders who have no respect for India's history. I was shocked that they even went to the level of disrespecting 'Vande Mataram': PM Modi
12:26 pm: Those who keep abusing us day and night do not tell why there are still 4 crore households without electricity. We have vowed to electrify these 4 crore households through 'Saubhagya Yojana': PM Modi
12:25 pm: In 2005, during the time of Smt. Sonia Gandhi's government, Dr. Manmohan Singh had said he will provide electricity to every village by 2009. What happened to that? In any case, we saw how the Congress treated Dr. Manmohan Singh. They tore off ordinances and disrespected him
12:23 pm: PM Modi attacks Rahul Gandhi over latter purportedly disrespecting the National Song 'Vande Mataram' few days back, as was seen in a viral video. 
12:22 pm: The Congress President is 'Namdaar' so how does he know about the efforts of 'Kaamdaars' : PM Modi
12:19 pm: Perhaps due to over excitement, the newly elected Congress President forgets decency. He did not even bother to congratulate the hardworking 'Mazdoors' due to whom India's villages are getting electricity : PM
12:18 pm: I want to dedicate the historical achievement of the country on 28 April, when all villages in India were electrified, to the workers and labourers of the country on this Labour day : PM Modi
12:17 pm: Today is Labour day and I want to dedicate this day to our hard working and diligent labours: PM Modi
12:16 pm: Before I came here, I was told there is a 'wave' for the BJP. Now that I am here, I can tell you - it is much more than that. There is not a BJP wave in Karnataka but it is a BJP storm 
12:15 pm: Shri B S Yeddyurasppa is the hope of the people of Karnataka and he is going to be the future Chief Minister of the state: PM
12:07 pm: Not BJP wave, there is BJP storm in Karnataka: PM Modi
11:49 am: Some people say that BJP will ally with JDS, I want to clarify that we will form the government on our own: BS Yedurappa
11:32 am: 
LIVE : PM Modi addresses public meeting at Santhemarahalli in Karnataka. #NammaModi https://t.co/1IpHHnpKNc

— BJP (@BJP4India) May 1, 2018
11:23 am: It is believed that BJP has chosen Chmarajanagar as the first spot for PM's rally because the party feels that Lingayat votes will not be enough for them to win, so it is trying to woo the Dalits. 
10:50 am: Ahead of PM's election campaign, Siddaramaiah, in a series of tweets, targeted him over corruption charges linked to Yeddyurappa and mining baron Janardhan Reddy. "Dear Narendra Modi, heard you are visiting Namma Karnataka tomorrow. We welcome you to our state. While you are here, we Kannadigas would like you to address the following concerns," read his first tweet followed by hashtag #AnswerMaadiModi
You first make scam tainted @BSYBJP your party's CM face in Karnataka. Then media reports that you don't want to be seen sharing the stage with him at rallies!

Karnataka wants to know if Yeddyurappa is still your CM candidate?

— Siddaramaiah (@siddaramaiah) April 30, 2018
09:04 am: BJP's chief ministerial candidate B.S. Yeddyurappa is scheduled to share the stage with Prime Minister Narendra Modi only at one rally in Chamarajanagara.
08:59 am: On May 8, the PM is expected to address public rallies in Vijayapura, Mangaluru, and Bengaluru.
08:58 am: On 5 May, Modi is scheduled to visit Tumkur, Shivamogga, and Hubbali. He is expected to be in Raichur, Chitradurga, and Kolar on 7 May.
08:57 am: PM Modi is expected to address rallies in Gulbarga, Ballari, and Bengaluru.
08:09 am: 
PM Shri @narendramodi will address three rallies on 1 May 2018 in Karnataka. Watch LIVE at https://t.co/vpP0MInUi4. #NammaModi @BJP4Karnataka pic.twitter.com/AYNEsILxUa

— BJP (@BJP4India) April 30, 2018
08:00 am: At least a dozen rallies are expected to follow in the coming days, party sources said.
The saffron party is making an all-out bid to oust the Congress government from the state.
According to the state Chief Electoral Office, 2,655 candidates are fray for the May 12 Assembly polls, which is expected to set the mood for the 2019 Lok Sabha elections. 
While PM Modi is expected to address around 15 rallies, party president Amit Shah will address 30 and UP CM Yogi Adityanath 20 rallies, according to reports.
Polling will be held in a single phase for all the 224-Assembly constituencies in the state, including 36 reserved for the Scheduled Castes (SCs) and 15 for Scheduled Tribes (STs). Counting of votes will take place on May 15.