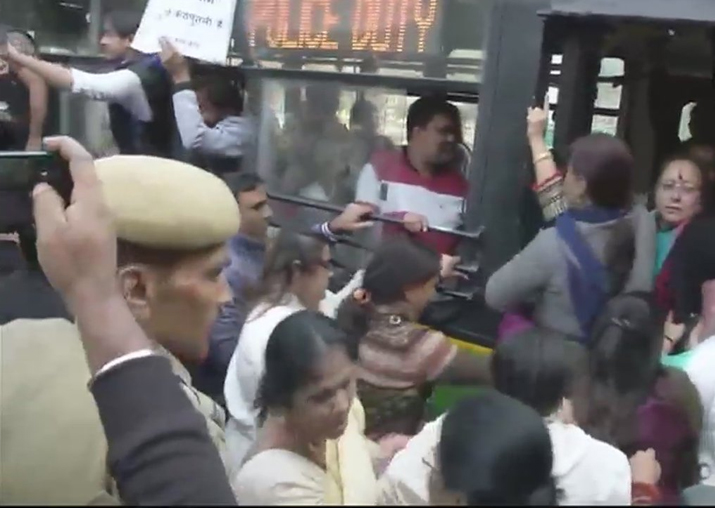 Scores of Congress' workers were detained by Delhi Police today while marching towards the Election Commission of India office to protest against Prime Minister Narendra Modi's roadshow after exercising franchise in Gujarat.
Undeterred by the police warning, the grand old party workers kept marching towards the ECI office after being stopped outside Sardar Patel Bhawan near Patel Chowk.
The movement of traffic near the Patel Chowk was due to the protest. Protesting Congress workers even raised slogans against the poll body and accused it of maintaining double standard while dealing with the complaints against the BJP.
The high-voltage drama in the capital was led Mahila Congress chief Sushmita Dev.
Following the protest, security at the ECI office was beefed up with the deployment of additional police personnel. 
Earlier in the day, the Congress accused the Election Commission of becoming a "captive puppet" in the hands of the Prime Minister, who it said was brazenly breaking rules in a final bid to save the BJP's "sinking ship" in Gujarat.
Charging the poll panel with not acting on Congress complaints against the BJP and Modi, the party said the poll panel was turning a blind eye to democratic and constitutional norms being violated by the ruling party openly.
Delhi: Police detains Congress workers who were marching to Election Commission in protest over PM Modi's roadshow after casting his vote today pic.twitter.com/xGIveyyqnX

— ANI (@ANI) December 14, 2017
"PM Narendra Modi's roadshow after he voted in Ahmedabad was a flagrant violation of the model code of conduct," Congress leader Ashok Gehlot said.
"It was an election campaign. Modi's roadshow after casting vote is a clear case of violation of the model code of conduct. The Election Commission, it seems, is working under pressure from the Prime Minister and PMO," he added.
Party spokesperson Randeep Surjewala said that "if any shame is left in the Election Commission, it should act on the Congress complaints". 
"It seems the Election Commission is blind. They cannot see Modi openly and brazenly violating the model code of conduct. This shows how unfortunately the Election Commission has become a captive puppet of the BJP," Surjewala said.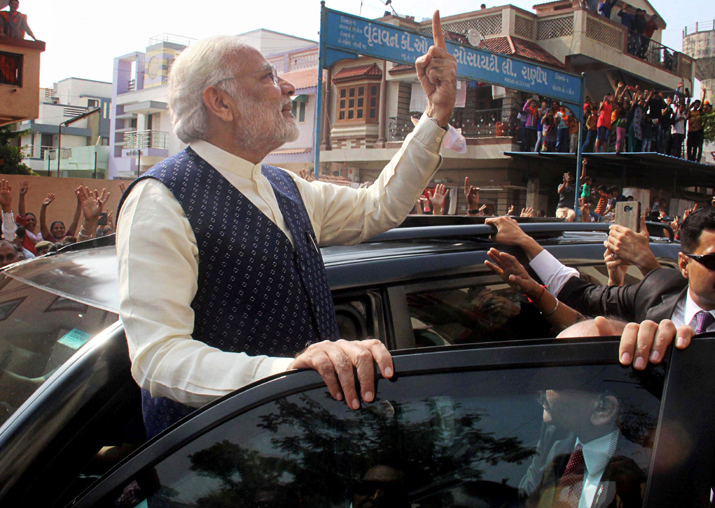 "The Election Commission has different standards for the BJP and the Congress. What is the reason for the Election Commission to behave like a front organisation of the BJP?" he added.