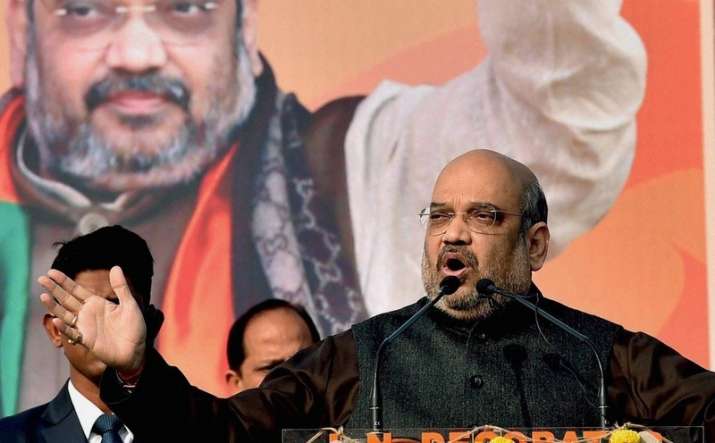 BJP president Amit Shah on Tuesday inaugurated the party's six-day 'Gujarat Gaurav Maha-Sampark Abhiyan' ahead of the next month's Assembly polls by knocking on voters' doors with a message of development.
Through the door-to-door campaign, the ruling party, which is yet to declare candidates for the upcoming elections, plans to reach out to voters under 50,000-odd booths in the state.
Shah launched the campaign from Naranpura constituency, from where he was an MLA earlier, after offering prayers at the Goddess Ambaji Temple on Sola road area.
He visited around 10 residential societies, including Parasnagar, as part of the campaign.
Gujarat: BJP Presiden Amit Shah starts 'Gujarat Gaurav Maha-Sampark Abhiyan' from Ahmedabad's Naranpura. pic.twitter.com/KaqIxpzK3N

— ANI (@ANI) November 7, 2017
Amid beating of drums, the Rajya Sabha member, along with a large number of BJP workers interacted with residents, went inside some houses, asked about their well-being and requested them to vote for the BJP in the coming elections.
The people were seen welcoming the BJP chief, who was their MLA since 1998 but had resigned from the post after being elected to the Rajya Sabha a few months back.
Shah along with other party workers distributed copies of a letter written by Prime Minister Narendra Modi, to voters in every house where they campaigned.
Chief Minister Vijay Rupani, former chief minister Anandiben Patel and other BJP leaders also launched the door-to-door campaign from different parts of the state. Rupani campaigned in Gandhigram area of his Rajkot-2 constituency, while Patel campaigned in her Gathlodia constituency of Ahmedabad city.
The party's senior leaders as well as booth-level workers interacted with voters under various booths across the state.
The exercise is aimed at telling people about what the BJP has done for the state's development.
The polling for the two-phase elections in the state will take place on December 9 and 14 and votes will be counted on December 18.
Several Union ministers - Smriti Irani, JP Nadda, Nirmala Sitharaman, V K Singh, Mansukh Mandaviya and Prakash Javadekar - would also visit Gujarat during the drive and interact with voters at their designated places, Gujarat BJP spokesperson I K Jadeja had said on Monday.
Manmohan Singh addressed small businessmen on GST
Meanwhile, at a time when Gujarat is witnessing a heated campaigning for the upcoming Assembly polls, former prime minister Manmohan Singh addressed small businessmen on GST and other issues in the state today.
In order to boost the Congress's prospects in the Gujarat elections, the economist-politician touched upon various aspects related to note ban as well as the implementation of GST and its impact on the economy during his interaction with the business community.
The polling for the two-phase elections in Gujarat, the home state of PM Narendra Modi, will take place on December 9 and 14 and the votes will be counted on December 18.
In Gujarat, Manmohan Singh addresses traders, media: HIGHLIGHTS
#By questioning bullet trains does one become anti-development? Does questioning GST and demonetisation make one a tax evader?
#When undertaking endeavour of one nation one tax if PM had taken inspiration from resolve of great Sardar Patel, outcome would've been different.
#Bullet train, launched with much fan fare, is an exercise in vanity.
#Unprecedented growth of imports by over Rs 45,000 crore, a 23 per cent increase in a year, can be attributed largely to demonetisation, GST
#While denigrating the past the prime minister is also exaggerating what he will do in future.
This attitude of suspecting everyone to be thief or anti-national, low level rhetoric is damaging to democratic discourse: Manmohan Singh pic.twitter.com/cI1LeAOaUu

— ANI (@ANI) November 7, 2017
#To promote less cash economy coercive steps like demonetisation are ineffective.
#No where in the world has any nation taken such a drastic step that sweeped off 86 per cent of the currency
#November 8 was a black day for our economy and indeed our democracy:
I repeat what I said in the parliament, this was organised loot & legalized plunder: Manmohan Singh #Demonetisation pic.twitter.com/AZY56cy8Pl

— ANI (@ANI) November 7, 2017
#Tomorrow we mark one year since the disastrous policy was thrust on the people of our country.
#Former Prime Minister Manmohan Singh's Gujarat visit comes a day before Congress vice-president Rahul Gandhi's likely tour of Surat as the Congress marks the first demonetisation anniversary on November 8 as 'black day'.
#The session has been organised at the Sardar Patel Memorial in Shahibaug area, the party said. After the event, the Congress leader will address a press conference at the state party headquarters, it added.
#The Congress vice-president has already toured the state multiple times in the last few months and addressed a number of rallies. The note ban has been a recurring theme of Gandhi's speeches.