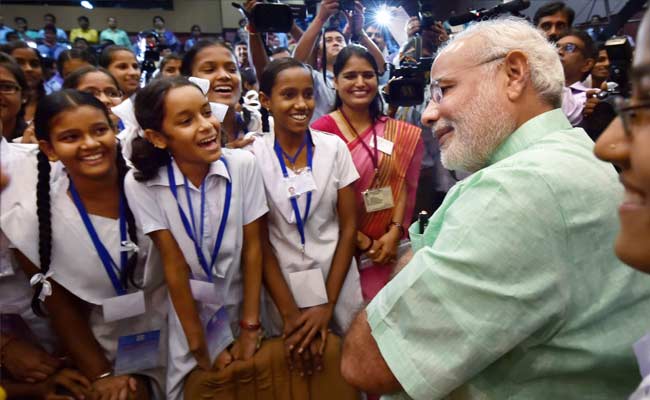 Are you feeling stressed about upcoming board exams? Fret not, because you can seek counseling from Prime Minister Narendra Modi himself. 
Keeping up the tradition of sharing motivational thoughts with students appearing for board examinations and other entrance examinations, PM Modi will hold - Pareeksha Pe Charcha - an interactive session with students on February 16, 2018, at Talkatora Stadium, New Delhi. Students can send in their questions in advance and the selected questions will be taken up during the discussion with PM Modi.
PM Narendra Modi has also penned a book titled "Exam Warriors" which was recently launched by ministers Sushma Swaraj and Prakash Javadekar.
How to ask questions from PM Modi 
#You can share your questions with India TV through social media using the hashtag #PareekshaPeCharcha and #ExamWarriors and we will send in your questions to the government panel. 
#Students seeking counseling from PM Modi an also post their questions directly at MyGov.in. 
Who can send in questions: 
#Only students from Standard 9 and above in schools and colleges may ask the question.
What type of questions can be asked: 
#The questions should be about the stress in schools/colleges from studies/exams.
#They should not be academic and shall arise from real life experiences.
#Keep the questions direct and brief, not more than 100 words. Use only Hindi or English as the language of the questions. 
For the last three years, through his Mann Ki Baat address, PM Narendra Modi has shared some motivational thoughts and several anecdotes on appearing for exams with a positive attitude. In the past, the PM has dedicated  Mann Ki Baat episodes to students appearing for exams. 
This year, let us embrace this exam season on a positive note by sharing experiences, anecdotes and thoughts on studying for exams and dealing with exam stress. Discuss & Deliberate on issues related to exams