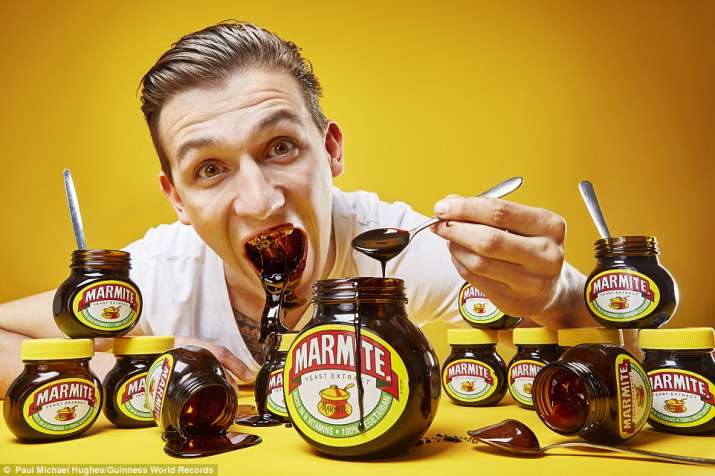 Guinness World Records are most respectful records all around the world. While everyone wants to be on that list, people at times do some pretty crazy things to get in the record books. There are many unbelievable records for physical anomalies like the world's tallest person, or the shortest, but the Guinness Book of World Records is also filled with some incredibly strange attempts like eating marmites or the Biggest Barbecue in the World. There are also people who set a record for brewing the largest cup or cappuccino and something like the couple who broke a record by kissing for a really long time has also been recorded
In honor of these odd achievements, here are the 5 weirdest records made by people around the world in 2018. Trust us, you will be shocked!
Tallest high top fade
Hailing from Los Angeles, California, Benny Harlem's high-top fade can take up to two hours to style, not because he is too much into fashion but has a a high-top fade of 52 cm in height. Benny first started getting attention for his hair after posting a stunning Instagram photo with his daughter in 2016 - showcasing their luxurious manes. He says he wants to inspire people of all cultures and backgrounds to embrace who they are by appreciating their own natural hair.
The longest legs (female)
Ekaterina Lisina's legs measure 52.2in (132.5cm) on her left leg, and 52in (132cm) on her right leg, so her legs alone are well over four feet tall. Amazed? Well, it's not really easy for her. Ekaterina has trouble finding trousers that fit her and find it very awkward squeezing into airplane and car seats. With a shoe size of 47, she says it's also tricky finding feminine shoes.
Most marmite eaten
Germany man Andre Ortolf holds the record for most Marmite eaten in one minute. After bagging the titles of the Most peanut butter eaten in one minute and Most mustard (bottle) drunk in 30 seconds, the multi-record holder expanded his ever-growing collection to a few more titles.
Most Jenga blocks removed by whip
The most Jenga blocks removed by whip in one minute is 7, and was achieved by Adam Winrich (USA), at the Scarborough Renaissance Festival, in Waxahachie, Texas, USA, on 27 April 2018. Adam decided to attempt this record because she enjoys whip cracking records and thought this one is a very interesting one related to whip cracking.
Ryan Toys Review - Most-watched YouTube channel
Well, this 7-year-old boy has become 2018's highest paid YouTube star just for reviewing toys. Ryan's channel is named as Ryan Toys Review and it reportedly pulled in $22 million (about Rs. 154.84 crore) during the 12-month period ending June 1, 2018. That is exactly double what Ryan made in the previous year, according to Forbes, when he was placed eighth in the 2017 list. Surprised? Yes, he is the smallest one to do that. The American kid is one of the youngest people to enter the Guinness World Records 2018 book.
For latest stories breaking the internet, check out our BUZZ section!