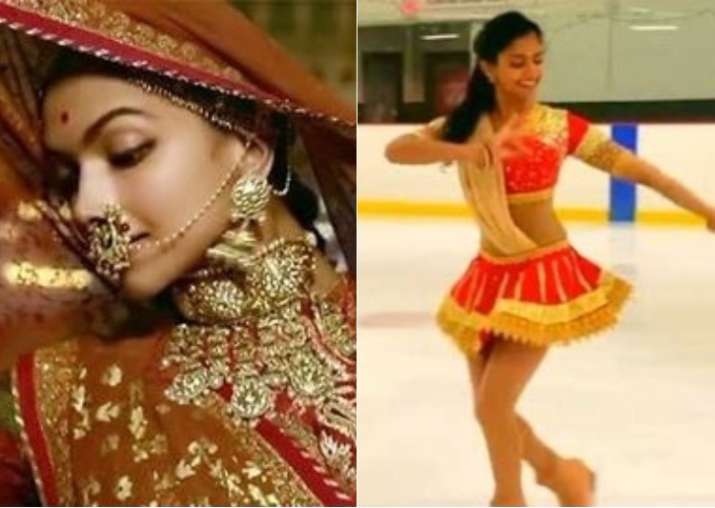 Post facing protests from fringe groups over the depiction of the Rajput queen in Ghoomar in Sanjay Leela Bhansali's Padmaavat, the song is back to create a fan frenzy across the world. Deepika Padukone's Ghoomar from the movie has already become one of the biggest hits of 2018.  The song - which has seen its fair share of controversies, has now become the soundtrack to many beautiful performances.
From Aparna Yadav's dance to NBA performances on Ghoomar to the families in San Fransisco who booked an entire theatre and dressed up as Rani Sa danced to ghoomar, the popularity of Deepika's dance number is showing no signs of slowing down. 
The latest addition to the list is figure skating champion Mayuri Bhandari's stunning performance on Ghoomar. She recently uploaded a video of herself dancing to the tunes of 'Ghoomar' and the video went viral for all the right reasons. 
Dressed in a red blouse and skirt along with a dupatta, Mayuri is seen twirling to the track on an ice rink as she effortlessly dances on skates.
"In honour of the film Padmaavat's release, here is my ice skating tribute to the beautiful song Ghoomar! As a Rajasthani, I skate to this song with pride!" she captioned the YouTube video. Check out the video here:
Since being shared online on January 26, her performance has already been viewed over 37000 times on YouTube.
Padmaavat's makers had released a new version of Ghoomar before the film's release which received over 100 million views on YouTube.