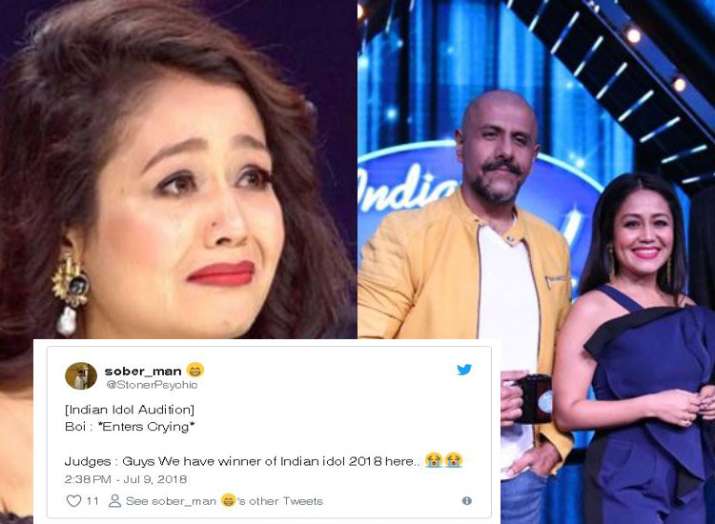 SONY Tv's most popular singing reality show Indian Idol season 10 has become a butt of jokes for many internet users after they witnessed a lot of drama in the episodes rather than pure talent. While the earlier seasons on the show were a hit among fans as they delivered soulful musicians, this year is more concerned with the emotional stories of the contestants rather than judging them on the basis of their singing.
Netizens claim that contestants are selected on the basis of their emotional and heartbreaking stories instead of the talent. From contestants to the judges, we see everyone shedding tears more than once in the episodes. This has not gone down well with the Twitterati and they have come up with the best memes and jokes that have broken the internet. Here are some of them.
*IndianIdol auditions*

Judges - why should we select you?

Contestant- pic.twitter.com/FRlKcqIr7E

— Rizzy رضوان (@Reminderiz) July 10, 2018
Retweeted Freelance 007 (@James_Beyond):

* Indian Idol Audition*

Judge : Batao apni kahaani

Contestant : Sir main apni life me bahot khush hun.

Judge : https://t.co/wWzOkjA23m

— Dhananjay Parmar (@DhananjayAsia) July 10, 2018
In Indian Idol Anu Malik will be like Anand bhai...😂😃😂#IndianIdolIsBack#IndianIdol #IndianIdol10 pic.twitter.com/uv49quDLUo

— Imran (@imranyh) July 7, 2018
* Indian Idol Auditions *

Contestant - Mere paas Netflix aur Amazon Prime ka subscription nahi hai. Doston ka password use karta hun

Neha Kakkar : pic.twitter.com/f8yooj58w3

— Bollywood Gandu (@BollywoodGandu) July 11, 2018
*Indian idol audition*
- chalo kuch sunao
Me - sir m engineer hu..
Judge - rula diya 😭😭ye lo ticket ap supr 16 m shamil ho gye

— Tina Khan🇮🇳 (@tinakhan24) July 9, 2018
Every poor guy's feeling #IndianIdol pic.twitter.com/fKetENvpqu

— Raghav (@comedibanda) July 11, 2018
Judge :- tell me about yourself and why we select you in #IndianIdol ?
Contestent:- pic.twitter.com/mXPeFnkpEh

— Gulshan Laassi (@gulshanlassi) July 10, 2018
----Indian idol audition----

*contestant in a wheelchair enters*

Judges : Aap agle round keliye select ho chuke ho..

Contestant : pic.twitter.com/f6KWIuRiSA

— ~Nishita~ (@Abelmylove16) July 9, 2018
*Indian Idol Auditions*

Anu Malik - Sorry, aap Mumbai nhi aa skte.
Contestant - Abe main wohi rehta hu chutiye.

— Divesh🇮🇳 (@SablaniaDivesh) July 11, 2018
Contestant: Sir me gaon....#IndianIdol Judges: pic.twitter.com/XzgU9ct29x

— Rishav Mishra 🙇 (@theNormieGuy) July 9, 2018
How to get selected in #IndianIdol

Singing ❌

Good singing ❌

Sir me bahut gareeb ghar se hu ✅

— Aditya Abhyankar 🖤💖 (@AdiTheReaper178) July 10, 2018
Season 10 of the singing reality show is being judged by Neha Kakkar, Vishal Dadlani, and Anu Malik. In fact, Neha Kakkar is the only one who has become the judge of the reality show after having competed as the contestant on the same show.