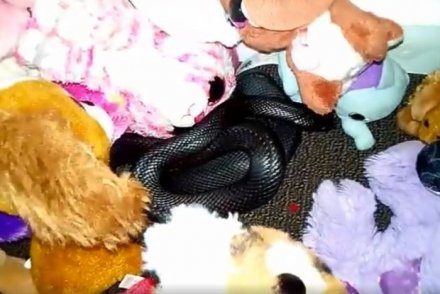 In a shocking video, a deadly black snake was found cuddled up with a child's soft toys in Australia. It so happened that the father found, which is considered one of many nation's most threatening snakes hiding in his little one daughter's cot. The video has been uploaded on a page called 'Andrew's Snake Removal' on Facebook in which it be seen how the venomous red bellied black snake was removed from the young girl's room strewn with toys all over, in her house in Queensland's Peak Crossing, in Australia.
Professional snake handler Andrew Smedley advised the father to shut the door to the bedroom and put a towel at the base to ensure the snake was contained until he could get there to collect it. By the time Andrew got to the residence, the snake had made itself comfortable under the girl's pile of soft animal toys.
Watch the viral video here.
"Things could've gotten a little ugly had no-one noticed the snake and the child was in there playing and put her hands in there," Mr Smedley was quoted as saying to Australian media.
"It's something you don't want in the kid's room."
The Australian Reptile Park said bites from red-bellied black snakes are rare "because it is usually a placid and fairly docile snake, preferring to enact a lengthy bluff display with flattened neck and deep hisses rather than bite".
Mr Smedley said there "hasn't been a recorded death for a long time" from a red-bellied black snake.
"But a bite would definitely make you sick and put you in hospital, especially being a child," he said.