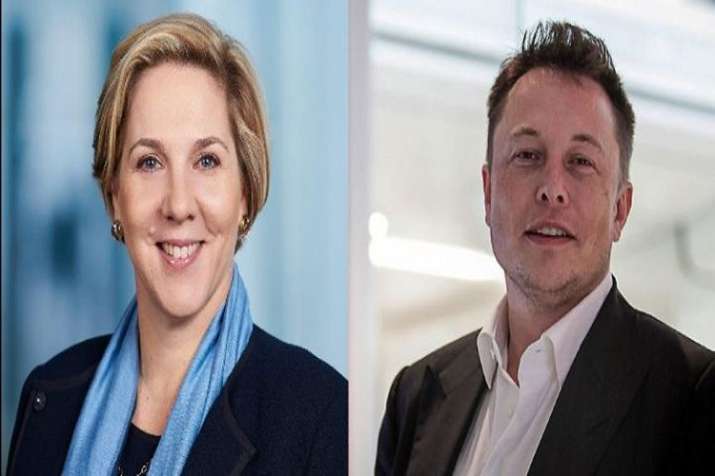 Tesla Inc on Thursday said that board member Robyn Denholm will replace Elon Musk as the new chairperson, a month after the billionaire had to step down from the post as part of settlement with US regulators.
Tesla had until November 13 to name an independent board chairman under its agreement with the Securities and Exchange Commission, which said Musk's tweets about taking the company private were fraudulent and that the billionaire should quit as chairman but retain its role as CEO.
Under that settlement, he and Tesla each had to pay a $20 million fine but Musk was allowed to stay on as chief executive.
The appointment of Robyn Denholm, chief financial officer with Telstra and already a Tesla board member, is effective immediately but she will serve out her six-month notice period with the Australian company, Tesla said in a statement.
Musk praised Denholm's input in her time on Tesla's board.
"Robyn has extensive experience in both the tech and auto industries and she has made significant contributions as a Tesla board member over the past four years in helping us become a profitable company," he said in the Tesla statement.
"I look forward to working even more closely with Robyn as we continue accelerating the advent of sustainable energy," Musk added.
Denholm said: "I believe in this company, I believe in its mission and I look forward to helping Elon and the Tesla team achieve sustainable profitability and drive long-term shareholder value." 
Musk was forced to resign as chairman after the US Securities and Exchange Commission charged him with securities fraud, alleging that he misled investors when he tweeted on August 7 that he had "funding secured" to delist Tesla at $420 a share, a substantial premium over its share price at the time.
The tweet was one of a number of issues that raised questions about the billionaire entrepreneur's aptness to lead Tesla.
Days after settling with the SEC, Musk mocked the agency in another tweet that labeled the agency the "Shortseller Enrichment Commission."
That alluded to short sellers, investors who have bet that Tesla shares will fall and who are frequently the subject of Musk's derision.
The tycoon was the subject of controversy when he smoked a joint during a September podcast interview in California and discussed the end of the universe.
Denholm has been chief financial officer and head of strategy at Telstra, Australia's former telephone monopoly, since the start of October.
For 18 months prior to that, she was Telstra's chief operations officer and previously held senior roles at networking equipment company Juniper Networks.
Telstra chief executive Andy Penn said: "We are sorry to see Robyn leave Telstra. We know that it has become increasingly difficult to balance her responsibilities as Telstra CFO with the increased activity of the Tesla board".