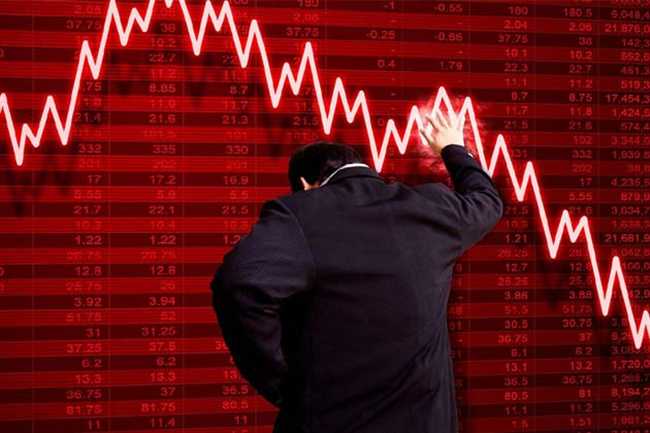 India equity indices witnessed a major bloodbath on Tuesday. A massive downturn in the global stock markets unleashed a selling frenzy on the domestic bourses during the day's trade.
Just after the pre-open session, the barometer 30-scrip Sensitive Index of the BSE traded more than 1,000 points or 2.90 per cent lower from Monday's close.
Similarly, the wider Nifty50 of the National Stock Exchange receded deep into the red. It plunged by over 300 points or 3.00 per cent.
At the closing bell, Sensex recovered over 700 points to end at 34,195.94 points - down 561.22 points or 1.61 per cent - from its previous close at 34,757.16 points. 
Similarly, Nifty bounced back over 200 points to close trade at 10,498.25 points - down 168.30 points or 1.58 per cent from its previous close.
But, Indian markets were not alone. All the major Asian stock markets - Nikkei, Hang Seng, Shaghai, Taipei, Seoul and Singapore - edged-lower following an overnight downward correction in Dow Jones by over 1,100 points. 
Dow Jones sets global panic by dropping 1,175 points
The global downturn was set off after Dow Jones Industrial Average index dropped by 1,175 points on Monday, biggest drop for the US market in last six years. 
The leading US stock market index on Monday closed down 4.6 per cent at 24,345.75, BBC reported.
The fall surpasses a previous record 777.68 points drop on the Dow Jones during the financial crisis in 2008.
That came after Congress rebuffed a $700 billion bank bailout plan following the collapse of investment bank Lehman Brothers.
Monday's decline is the largest fall in percentage terms for the Dow since August 2011, when markets dropped in the aftermath of "Black Monday" when Standard & Poor's downgraded its credit rating of the US.
US investors are reacting to changes in the outlook for the American and global economy, and what that might mean for the cost of borrowing.
The decline in the Dow was closely followed by the wider S&P 500 stock index, down 4.1% and the technology-heavy Nasdaq, down 3.7%.
Asia markets awash with red as rout spread globally
The record-breaking loss on Wall Street extended into a global rout as Asian stocks faced bloodbath with the opening bell on Tuesday. 
Panicked investors fret over rising US borrowing costs and take profits after months of market euphoria led sell off in Tokyo, Hong Kong, Sydney and Singapore. 
Tokyo led a collapse throughout the region, briefly diving almost seven percent before closing down 4.7 percent. Hong Kong lost more than five percent in its worst day since summer 2015, while Sydney and Singapore each sank three per cent. 
Among other Asian markets Seoul lost 1.5 percent, Taipei sank five percent, Manila plunged 1.1 percent and Shanghai gave up 3.4 percent. Mumbai was 0.9 percent lower, Bangkok plunged 2.4 percent and Jakarta and Kuala Lumpur were also well down.
Other assets were also hammered, with a slump in oil prices scything energy firms, while higher-yielding currencies have been hit by a flight to safe havens.
  
Bloodbath or course correction
Global stocks have enjoyed months of surges fuelled by optimism over the US economy, corporate earnings and the global outlook. 
The winning streak was fanned by the passage of Donald Trump's massive tax cuts bill in December, which led several big-name firms to announce pay rises and bonuses.  At the same time the economy continues to improve across the board. 
But while traders have been piling into equities, pushing many global indexes to record or multi-year highs, there has been growing concern on trading floors about elevated US Treasury bond yields—at four-year highs—and the likelihood of fresh Federal Reserve interest rate rises. 
Selling kicked in on Friday when official data showed another jump in US jobs and a rally in wage growth, fuelling fears that inflation will surge this year and that the Fed will be forced to raises rates more than expected. The so-called Vix volatility index more than doubled in US trade on Monday. 
"How far it goes down? You tell me," Steven Wieting, global chief investment strategist at Citigroup, told Bloomberg TV. You cannot keep up this speed of decline "day after day after day without finding some sort of bottom rather quickly", he added, predicting further volatility. 
In India, market observers pointed-out that factors like the budgetary proposal to tax long-term gains on shares and concerns over the central government's fiscal prudence measures amplified the global downturn.
"The unprecedented downfall in Dow yesterday (Monday) and combination of other negative factors like the high fiscal deficit projected and proposal on LTCG and fear of the stand that the RBI (Reserve Bank of India) will take during Wednesday's review has led to this melt-down or selling panic," Deepak Jasani, Head, Retail Research, HDFC Securities, told IANS. 
"Not just India but globally this downturn has taken place due to the fear of high interest rates regime coming into the developed markets amid high valuations... On the domestic front other factors like high valuations, uncertainties on growth, inflation and interest rates and fears of RBI turning hawkish are unnerving investors." 
Vinod Nair, Head of Research, Geojit Financial Services said that a spike in global bond yield and high valuation triggered a sell-off in the global equity market. 
"Currently, we are under a tactical shift in asset classes after the overwhelming return from equity market in the last one to three years, funds are shifting out of equity asset to bonds. In India, we are seeing an extended impact in the domestic market post the LTCG and fiscal deficit turmoil. 
"The government's 10-year yield stands at 7.55 per cent compared to 6.90 per cent three month back. This negative trend will stabilise as valuation sets to a normal level along with reduction in bond yield. In the short-term the upcoming RBI monetary policy will be a key trigger for the market, the outcome of which is expected to be status quo, but any commentary over government's fiscal policy and concern over rising yield can add volatility." 
According to Dhruv Desai, Director and Chief Operating Officer of Tradebulls, more "volatility" was expected and can last till Thursday.
Currency market
On currency markets the yen, considered a go-to unit in times of turmoil and uncertainty, climbed against the dollar.  The greenback, however, rose against the pound and euro thanks to the rate rise expectations.
 
The commodity-dependent Australian dollar tanked one percent against its US counterpart, while South Korea's won, Indonesia's rupiah and the Mexican peso were among the other big losers.  China's yuan, weakened 53 basis points to 6.3072 against the US dollar on Tuesday.
And bitcoin continued its spiral downwards after some banks banned their customers from buying it with credit cards.  The news is the latest to hit the cryptocurrency after recent crackdowns by authorities in India, South Korea, China and Russia.
Key losers
Energy firms were among the biggest victims, with Inpex losing more than four percent in Tokyo, while CNOOC, PetroChina and Sinopec were down between five and 6.5 percent in Hong Kong. 
Sydney-listed Woodside Petroleum was off nearly four three per cent and BHP shed 2.7 per cent. 
 
Tech giants were also targeted after disappointing earnings reports from Apple and Google parent Alphabet.  Tencent, Sharp and Samsung all got a bloody nose.  
Back home, top losers were Tata Motors, Tata Motors (DVR), Tata Consultancy Services, Hero MotoCorp and Kotak Bank, while Tata Steel and Bharti Airtel managed to get ahead on BSE.