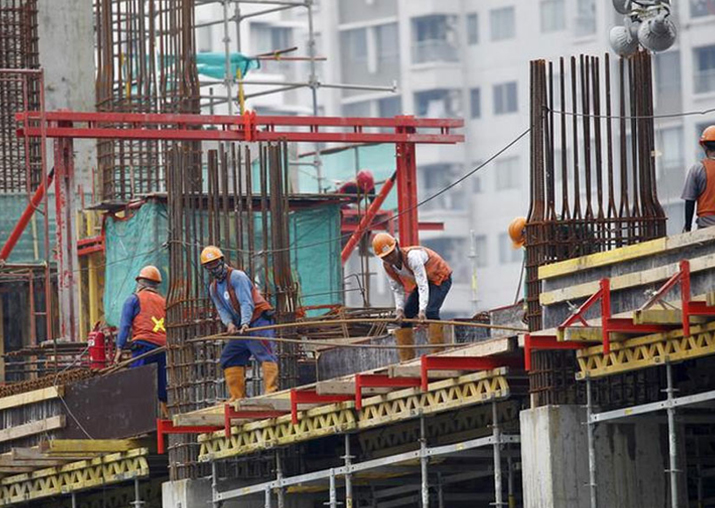 India's Gross Domestic Product (GDP) growth for the second quarter of the current fiscal ended September 30 went up to 6.3 per cent, from 5.7 per cent reported during the first quarter of 2017-18, official data showed on Thursday.
According to data from the Central Statistics Office (CSO), the GDP for Q2 stood at Rs 31.66 lakh crore, or a growth of 6.3 per cent.
"GDP growth recovers to 6.3% in Q2 from a 3-year low of 5.7% in Q1," TCA Anant, the Chief Statistician of India (CSI), said, adding that 'after almost 5 quarters of decline, GDP marks a reversal which is very encouraging'.
Anant informed that good growth figures -- - manufacturing reported growth of 7%, electricity, electricity, gas and water supply grew at 7.6 % and trade hotels, transport and communication grew at 9.9%, pushed the GDP.
Anant noted that construction continues to be low. 
"It is indicator driven and based on steel and cement, and those numbers have not shown high growth," he said.
Analysts had also expected an higher dataprint for the September quarter GDP, with some of them pegging it at 6.4 per cent.
"The first quarter growth at 5.7 per cent--a three-year low--did cause a lot of heartburn… Q2 growth is likely to trend higher and might be in at 6.3-6.4 per cent (gross value added at 6.1-6.2 per cent) with a downward bias," economists at SBI said in a note today. 
Pulled down by sluggish manufacturing, growth during the first quarter of this financial year fell to 5.7 per cent, clocking the lowest GDP growth rate under the Narendra Modi dispensation. The previous low of 4.6 per cent was recorded in January-March 2014.
Economists with Singaporean brokerage DBS had also expected the headline growth to accelerate to 6.4 per cent for the second quarter, but cut its forecast for the full year 20 bps to 6.6 per cent largely on the dismal first quarter. 
British brokerage HSBC had forecasted a 6.3 per cent print on a gross value added (GVA) basis on a jump in industrial growth. 
On the other hand, data released by the Controller General of Accounts showed that the country's fiscal deficit had reached 96.1 per cent of the budgeted target in October-end. This was in stark contrast to the 79.3 per cent of the target in the same period of 2016-17. Lower revenue realization and higher expenditure by the government were cited as among the major reasons behind this.
It can be noted that the slowdown in the growth activity had led a concerned government to declare that it is looking at multiple ways of upping the activity, including through a growth stimulus. 
Ahead of the GDP data release, the benchmark BSE Sensex collapsed 450 points to close at 33149.35. The Nifty also lost points to end at 10226.55 as selling pressure gripped frontline indices leading to the big correction.