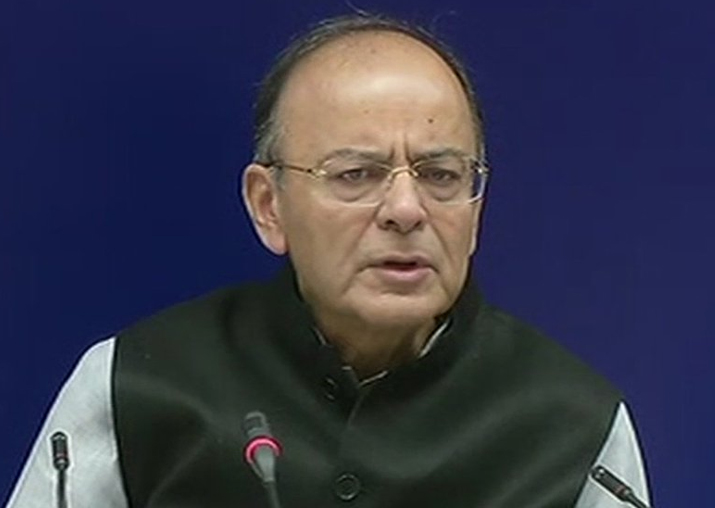 During the meeting, the Council raised the threshold limit for Composition Scheme to Rs 1 crore from the current Rs 75 lakh to ease tax filing for small traders. Under the Composition Scheme, traders have to pay a fixed tax rate between 1-5 per cent.
The Council also allowed quarterly return filing for traders with turnover less than Rs 1.5 crore.
Earlier on Thursday, Prime Minister Narendra Modi had a meeting with Finance Minister Arun Jaitley and BJP President Amit Shah and discussed the state of the economy and steps to revive growth in the country.
As it happened:
# GST on unbranded, namkeens, ayurvedic medicines reduced from 12% to 5%
# Man made yarn was taxed 18%, it has been put in 12% slab, will have effect on textiles: FM Jaitley
# GST rate on 27 items reduced, says FM Arun Jaitley
E-way bill discussed, K'taka already having good experience with it, after 1 Jan it'll go to other states; will try to implement by 1Apr: FM pic.twitter.com/VOwrIl41hA

— ANI (@ANI) October 6, 2017
# Members wanted to revisit tax structure of restaurants with more than Rs 1 crore turnover. Group of Minister to submit report on recommendation on  AC restaurants in 2 weeks.
# 90 per cent of the assesses who have turnover less than Rs 1.5 crore turnover to file quarterly returns: Finance Minister 
# Traders to pay 1%, manufacturers 2% & restaurants 5% under composition scheme: FM Jaitley
# The limit for turnover in compensation scheme raised from Rs 75 lakh to Rs 1 crore: FM
# There has been blockage in credit of exporters which affects their cash liquidity: Arun Jaitley
# E-wallet for each exporter to be made & notional amount as advance refund will be given; will be initiated on 1 April 2018: FM
# From October 10, month of July and from October 18, month of August's refunds will be processed, says Jaitley
# Pattern of collection (of GST) is not clear after two months because it was a period of transition: FM Jaitley 
# Powerful GST Council headed by Union Finance Minister Arun Jaitley ends 
# Any person buying jewellery above Rs 50,000 will not be required to submit PAN or Aadhar Card details 
# Any entity dealing in gems/ jewellery/ other high-value goods & has a turnover of Rs 2 Crore or more in a FY will not be covered under PMLA
# Quarterly return for small business with turnover less than Rs 1.5 crore
# Threshold for composition scheme in GST hiked from Rs 75 lakh to Rs 1 crore: PTI  Sources 
# Govt revokes GST notification on gems and jewelry, separate notification to be issued separately after due consideration: ANI
# 
जीएसटी परिषद के निर्णयों से बिहार के कारोबारियों को सर्वाधिक लाभ pic.twitter.com/9V4406Ccrw

— Sushil Kumar Modi (@SushilModi) October 6, 2017
# Sources say GST Council decides to raise composition scheme limit to Rs 1 cr from Rs 75 lakh.
# GST Council meeting is still underway. Finance Minister Arun Jaitley is chairing meeting to review GST implementation and issues arising in marketplace.
# Congress Vice President Rahul Gandhi has said petrol and diesel should be brought under the GST regime to prevent excessive profiteering.
He said he hoped Prime Minister Narendra Modi would see the "GST mess" from the "prism of the suffering people" rather than electoral interests. 
# GST Council discussed issues faced by small traders, requested quarterly filing of returns for small businesses, says  AP Finance Minister Y Ramakrishnudu.
# GST Council has reached consensus on increasing composition threshold on turnover of Rs 1 crore, says Andhra Pradesh Finance Minister Y Ramakrishnudu.
# The GST Council may decide to reduce the GST slabs for around 60 products, with some products that fall under the luxury goods category under the 28 per cent GST slab now brought into the 18 per cent slab.
# The main agenda of today's meeting is to rethink on the process of businesses and changes that need to be brought about based upon the learnings of the government and the feedback it has received in the three months since GST launch.
Also Read: GST Council meeting: From reduced GST slabs to simplifying procedures, 10 relief measures to expect today
Watch PM Modi's speech