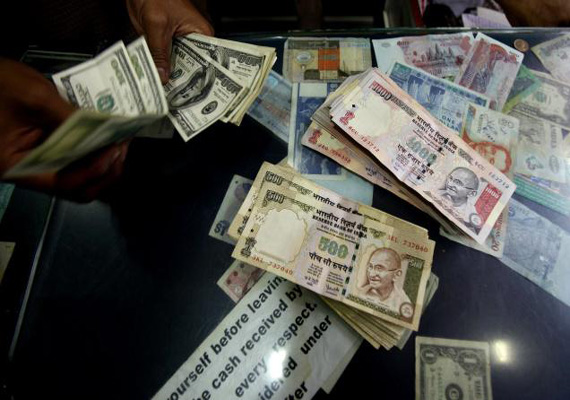 Mumbai, Feb 10: The rupee today gained eight paise to close at 49.42/43 against the US dollar on fresh selling of the American currency by exporters.

The local unit moved between 49.38 and 49.76 at the Interbank Foreign Exchange (Forex) market, before settling higher by 8 paise, at 49.42/43.

Forex dealers said if not for the firm dollar in the global markets, rupee's gain would have been sharper. Meanwhile, the BSE benchmark index Sensex closed down by 82.06 points at 17,748.69.

According to Sebi data, foreign Institutional Investors (FIIs) pumped in USD 294.27 million yesterday, taking the total investment to over USD 3.977 billion in the current calender year till February 9.

The dollar index, a gauge of six major currencies was up by nearly 0.2 per cent after European finance ministers refused to sign off on a second bail-out package for Greece.
Meanwhile, New York global crude oil was trading below USD 99 a barrel in European market today.

The rupee premium for the forward dollar reacted downwards on fresh receivings by exporters.

The benchmark six-month forward dollar premium payable in July ended lower at 164-166 paise from Thursday's close of 171-1/2-172-1/2 paise and far-forward contracts maturing in January also settled sharply down at 289-291 paise from 302-304 paise.

The RBI has fixed the reference rate for the US dollar at 49.6445 and for euro at 65.7995.

The rupee recovered against the pound sterling to end at Rs 78.21/23 from yesterday's close of 78.41/43 and also firmed up to Rs 65.46/48 per euro from Rs 65.67/69.

It also recouped against the Japanese yen to Rs 63.60/62 per 100 yen from its last close of Rs 64.18/20.