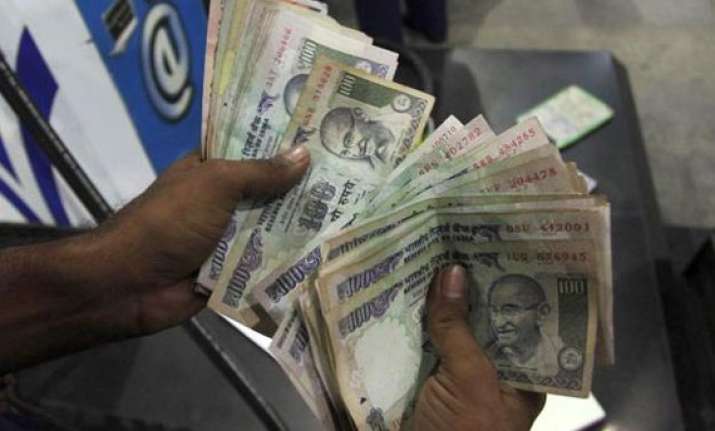 Mumbai: The rupee today extended losses and fell by eight paise to end at 59.11 against the dollar dragged down by month-end importer demand of the US currency.  It lost 59 paise in the past five trading sessions, logging its first weekly drop in five. In May, the rupee shed 120 paise against the dollar.
The rupee today commenced a little down at 59.05 a dollar from last close of 59.03 at the Interbank Foreign Exchange (Forex) market. It later moved in a range of 58.9250 and 59.14 before concluding at 59.11, a fall of eight paise or 0.14 per cent. Yesterday, it was down by 10 paise or 0.17 per cent.  The rupee has fallen in five sessions out of last six.
FIIs had pulled out Rs 522.90 crore yesterday.  As per provisional data from bourses, FIIs bought stocks worth Rs 2,977 crore today. This could have helped cap rupee's losses to some extent, say forex dealers.  As forex markets were closing for the day, government data showed India's fiscal deficit during the 2013/14 fiscal year narrowed to 4.5 per cent of GDP.  Later, March quarter GDP growth came in at 4.6 per cent year-on-year.
"Month end demand from importers put some pressure on rupee and continuous depreciation was seen throughout the day.  Most of the Asian currencies were weaker against dollar," said Kiran Kumar Kavikondala, Director & CEO, WealthRays Securities.
The Sensex today eased by 16.81 points in choppy trade.  Pramit Brahmbhatt, Veracity Group CEO said: "The trading range for the Spot USD/INR pair is expected to be within 58.50 to 59.50."
Meanwhile, premium for forward dollar edged up further on persistent payments from banks and corporates.  The benchmark six-month premium payable in October closed a tad higher from 205-207 paise from 204.5-206.5 paise previously and far-forward contracts maturing in April, 2015 also improved to 443.5-445.5 paise from 441.5-443.5 paise.  
The Reserve Bank of India fixed the reference rate for dollar at 59.0335 and for the euro at 80.3350.  The rupee fell back against the pound to 98.91 from last close of 98.66 while declined further to 80.44 per euro from 80.36. It also finished slightly weak at 58.13 per 100 Japanese yen from 58.11.