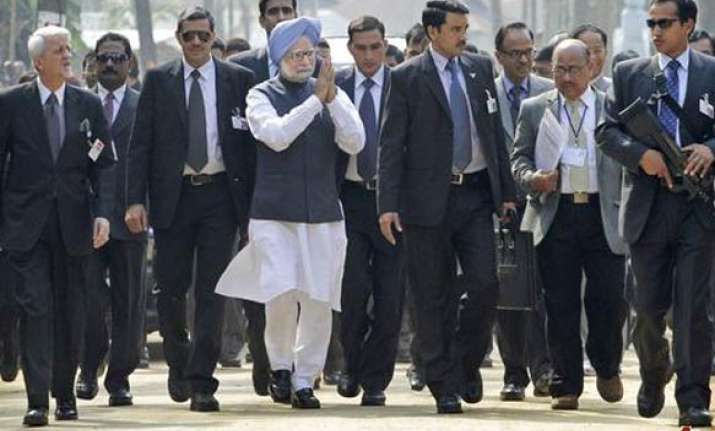 New Delhi, Jul 16: Prime Minister Manmohan Singh today said the country has achieved a record foodgrain production of 241 million tonnes (MT) in 2010-11 crop year but stressed on ushering in a second Green Revolution to meet the mounting future domestic foodgrain demands. "Production of major crops has been at record levels in the year just over. An estimated total production of 241 million tonnes in 2010-11 was achieved because of record production of wheat, maize and pulses.

Oilseed production also set a new record," the PM said, while delivering speech at an ICAR function here. The estimated 241 MT foodgrain production is higher by 5 MT as announced by the Agriculture Ministry in its third estimate. It is also higher by 23 MT as compared to previous crop year 2009-10.Crop year runs from July to June.He said the record foodgrain production has been achieved because of hard work of the farmers and scientists. But, Singh emphasised that the country needs a second green revolution to further accelerate agri growth and achieve self-sufficiency in food.

He said the total demand for foodgrains of the country is projected to touch 281 MT by 2020-21."Meeting this demand will necessitate a growth rate of nearly 2 per cent per annum in foodgrain production," the PM said.

Stating that the country was spending about 0.6 per cent of its agriculture GDP on agricultural research and development at present, he said this needs to be enhanced by 2-3 times by 2020.

"India needs a second green revolution that is broad-based, inclusive and sustainable," Singh said. Referring to mounting future domestic foodgrain demands, Singh exhorted the scientists to gear up for the task. "The enormity of the task ahead is indicated by the fact that during the 10 year period 1997-98 to 2006-07, our foodgrain production grew at an average annual rate of only 1 per cent," he said.

"Although foodgrain production has since regained the requisite momentum and the agriculture sector as a whole is set to grow at 3 per cent per annum during the 11th plan, we can not be complacent," the PM added.

"We must note that this is less than the targeted 4 per cent and a consequence in recent years has been unacceptable levels of foodprice inflation," he pointed out. Emphasising on the second 'Green Revolution', Singh said that the second green revolution must explicitly embrace dryland farming.

Speaking on management of water in view of impending scarcity of water in the 21st century, the PM said "our irrigation efficiency is estimated to be around 30 per cent, which needs to be raised to at least 50 per cent". He stressed on touching two other areas for accelerating agricultural performance.

The first is protection of crops, animals and farm produce against new and emerging diseases and pathogens and second on careful application of biotechnology to improve productivity, enable better resilience to stress and also enhance the incomes of our farmers.

Earlier, the PM gave awards to five states, including Punjab and Uttar Pradesh, for performance in achieving record foodgrain production. He also rewarded some states in individual crop category. PTI