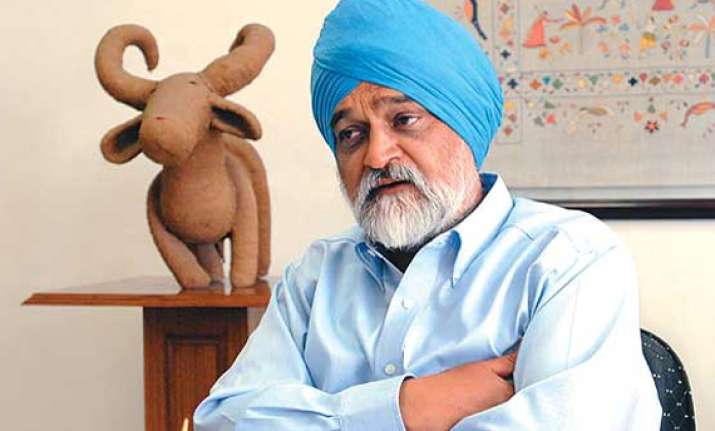 New Delhi, June 12: Attributing the rupee's decline to dollar surge in international markets, Planning Commission Deputy Chairman Montek Singh Ahluwalia today said the government has been taking steps to deal with the economic situation and hoped that forex market will stabilise.
"We have taken a number of steps, macroeconomic steps, fiscal deficit reduction step, steps to improve domestic investment confidence. I think as these steps begin to buy, some of them are already buy say, we should see a more stable condition.
"But you know we are not targeting any given level of rupee...currency move up and down and I think market know how to deal with that," Ahluwalia told reporters here.
The rupee had touched an all-time intra-day low of 58.98 yesterday on strong dollar demand before closing at 58.39.
However, the rupee recovered today against the US dollar on RBI's steps yesterday to check free-fall in rupee.
Earlier today in an interview to CNBC-TV18, Ahluwalia said that the Reserve Bank did intervene in the forex market yesterday to arrest the unnecessarily fall of the rupee.
I don't think one can say anything more than that when you are dealing with an exchange rate that is market determined," he told the channel.
He said rupee is falling in tandem with all emerging market economies because of their high current account deficit.
"I think if you look at all emerging markets, every emerging market country has a current account deficit...but you know currency instability should not be looked as one currency depreciation. Dollar is on the rise against all the currencies, you can't expect the rupee to necessarily remain the same," Ahluwalia told reporters here.
He said the finance ministry officials have also said a lot about decline in rupee which he agrees as there is lot of volatility globally in the currency value.
"I generally agree what they (Finance Ministry officials) have said which is that there is a lot of volatility globally in currency value now and that's partially because of the expectations perhaps the financial stimulus measure in the United States will get withdrawn later," he added.