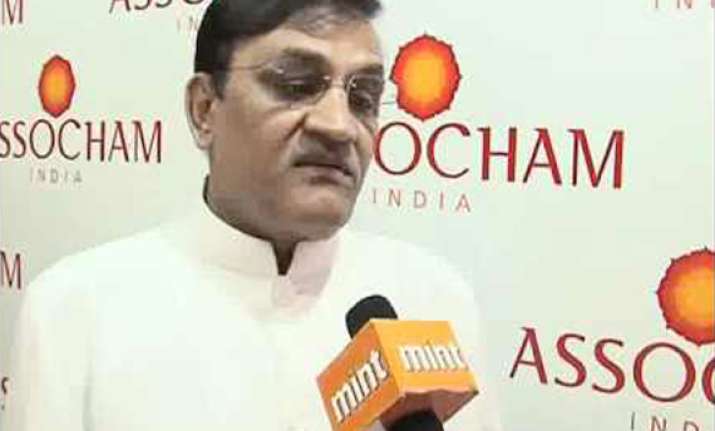 New Delhi, Jun 10: Ahead of the mid-quarterly review of RBI, Assocham has sought immediate cut in short-term lending rate and cash reserve ratio (CRR) by at least 100 basis points each from the central bank.
"There is an urgent need to lower repo rate up by 100 basis points (bps) and CRR by 100 bps to reduce cost of borrowings and boost investments as the baby steps will do nothing in this sagging situation," Assocham President Rajkumar Dhoot said.
CRR is the portion of deposits banks require to keep with the central bank.
Besides, he said, reduction in Statutory Liquidity Ratio (SLR) by 200 basis points to increase liquidity. This would address the funds requirement both for government as well as domestic industry.
SLR is the portion of deposits that banks are required to keep in government securities.
The industry has been clamouring for relief from the government on the plea that demand slowdown, rising input costs and high interest rates have affected their business.
"Therefore in such testing times, responsibility of the RBI becomes all the more important to address growing concerns on the falling investment and liquidity faced by the system as the government borrowings shoot up," Dhoot said.
The central bank is scheduled to announce its first mid-quarter review of monetary policy for 2012-13 on June 18.
In its annual credit policy for 2012-13 on April 17, RBI had slashed short-term lending rate or repo rate by 0.50 per cent to 8 per cent to prop up the economy.
Further, Assocham said, the cushion that the economy has built up over the last few years and its predominant dependence on domestic consumption, the RBI has also synced with the general expectations of the industry to continue its liberal monetary policy stance.
"There is a strong case based on the slowdown in the GDP as well as depreciating rupee to further open up avenues for improved funds inflows to perk up investments," it said.
Hit hard by global woes and domestic problems, India's economic growth rate slowed to a nine-year low, both in the March quarter at 5.3 per cent and at 6.5 per cent in 2011-12.