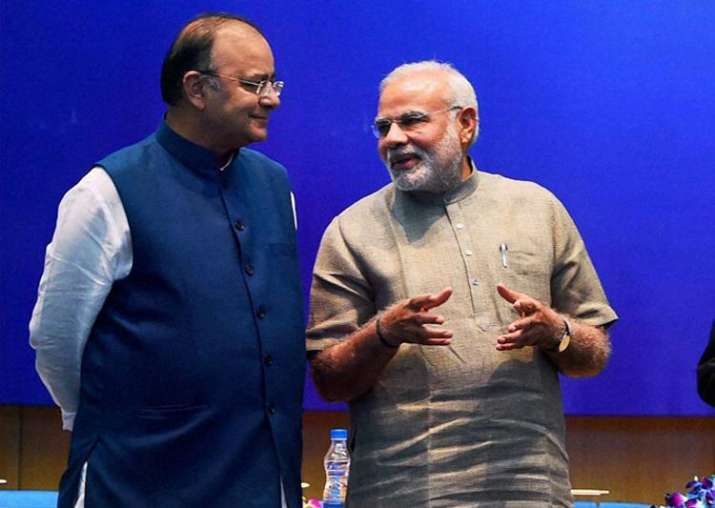 Amid concerns over slowdown in the economy, Prime Minister Narendra Modi will on Tuesday interact with Finance Minister Arun Jaitley and other top Finance Ministry officials to take stock of the situation and discuss remedial measures to bolster growth. Official sources said on Monday that the Prime Minister will threadbare analyse the economic situation with Jaitley and secretaries of the finance ministry and explore options to stimulate the economy. 
The meeting comes days after latest government data showed GDP growth slumping to a three-year low, current account deficit rising to four-year high and industrial growth slowing down to lowest in five years. 
The GDP growth in the first quarter of the current fiscal has slowed down to 5.7 per cent, from 7.9 per cent in April-June of 2016 and 6.1 per cent of January-March. GDP growth has declined steadily for six straight quarters and the Economic Survey-II predicts that the economy may not be able to achieve the targeted growth rate of 7.5 per cent owing to deflationary pressures. 
The current account deficit (CAD) in the April-June quarter has risen to 2.4 per cent of GDP, or USD 14.3 billion, mainly on account of increased trade gap. 
CAD, the difference between inflow and outflow of foreign exchange, was 0.1 per cent (USD 0.4 billion) in the June quarter of last fiscal. 
The figure compares with 0.6 per cent (USD 3.4 billion) for January-March 2017. 
Exports are facing strong headwinds and the industrial growth is the lowest in five years. 
The government has come under attack from Opposition and economists who have attributed the slow down to demonetisation and hasty implementation of the Goods and Services Tax (GST). Both demonetisation and GST have affected India's GDP growth adversely, former Prime Minister Manmohan Singh said on Monday.
"Both demonetisation and GST have had some impact on GDP," Manmohan Singh told a news channel. He had earlier said that the Indian economy has been running on only "one engine" of public spending.
Former Reserve Bank of India Governor Raghuram Rajan had estimated earlier this month that the country's GDP had taken a hit of between 1 to 2 per cent due to demonetisation, which translated to a sum of around Rs 2 lakh crore.
GST, demonetisation to figure in PM's meeting 
The teething troubles with the rollout of the GST, after-effects of demonetisation and the fiscal space available is likely to figure during the meeting. Till date, direct and indirect tax collections as well as projections for the year may be presented to the prime minister. 
Disinvestment proceeds may also be put before Modi to give a fuller picture of government finances. 
Inflationary pressures, along with reasons for the lacklustre manufacturing growth of 1.2 per cent in July, may also come up for discussion, they said, adding that the meeting may also take stock of spread of monsoon and its impact on agricultural economy. 
Both wholesale and retail inflation rose in August. With demonetisation said to have dealt a blow to blackmoney, steps being taken to prevent its generation may also be discussed at the meeting. 
Sources said the interaction may focus broadly on what ails the economy and the fiscal space available with the government. 
Steps to boost economic growth, create jobs and reviving private investment may be part of the discussion, they said. 
The government is concerned at the stuttering growth despite a benign macroeconomic environment with easy money flowing in, global growth reviving, government revenues looking solid, deep foreign exchange reserves, reasonable oil prices and a decent monsoon keeping food prices in check.
Increasing government spending, particularly on infrastructure, combined with quickly fixing the problems with GST may feature in tomorrow's deliberations.
(With PTI inputs)